A tribute to Arab women
The United Nations Economic and Social Commission for Western Asia (ESCWA) and LAU's Institute for Women's Studies in the Arab World commemorate International Women's Day.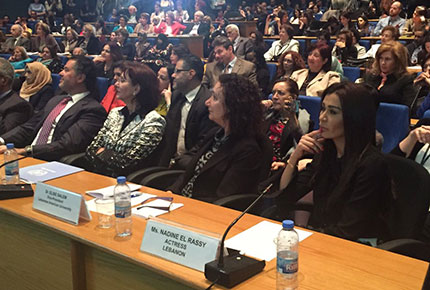 Artists, academics and diplomats graced the stage and filled the auditorium at the United Nations House in Beirut on March 10 to mark International Women's Day.
Master of ceremonies for the commemorative event journalist Rihan Younan began by listing some of the many abuses and discriminatory acts faced by women today, including child marriage, domestic violence and pay inequity. "All these result from actions by both men and women," she said to a full house. "Equality is the solution, and it can't be reached without both women and men."
Pop star Ragheb Alama, actress Nadine El Rassi, LAU Vice President for Student Development and Enrollment Management Elise Salem, United Nations Under-Secretary-General Rima Khalaf and songstress Faia Younan each took to the stage to share messages of hope and resistance.
Khalaf, who is also Secretary General of the United Nations Economic and Social Commission for Western Asia (ESCWA), which hosted the event together with LAU's Institute for Women's Studies in the Arab World (IWSAW), echoed Younan's sentiment and summarized the goals of the day in a few words: "We are here in celebration and solidarity. Though we are facing difficult times, we must celebrate the achievements of the many women and pioneers in the Arab world who have fought for gender equality."
Salem in her address named two such women – Lebanese feminist Anissa Najjar and Moroccan sociologist Fatema Mernissi – before praising Lebanon's female students she interacts with every day. "Year after year LAU and other universities in the country infuse the market with highly educated and qualified young women, and yet the country continues to fail us by reinforcing patriarchal sectarian political representation, inequity in pay and employment and an obsolete and demeaning legal system that relegates women to second-class status," she said. "With no effective Lebanese government or national commitment to close the gender equality gap, Lebanon remains stuck to laws and policies that discriminate against women," she added.
Similarly, UN Goodwill Ambassador Ragheb Alama took the opportunity to salute women and criticize the system that stood in their way. "There have been many strong Arab women," he said, naming Egyptian Huda Shaarawi, Lebanese Laure Moghaizel, Palestinian Leila Khaled and Tunisian Radhia Nasraoui.
The artist also paid homage to his mother, who died three weeks ago: "She raised me to respect women, and International Women's Day is an opportunity for us to recognize their importance." If women were more present in Lebanon's government, said Alama, then we wouldn't see such disrespect and shamelessness as we do now, surrounded by garbage.
Lebanese actress Nadine El Rassi concluded the day's speeches by imploring everyone to work toward the common goal of gender equality. "Lawyers, teachers, artists … all have their role and methods, but the solution is in our hands united."
LAU Associate Professor of Communication Arts Lina Abyad and three actors showcased their method – theatre – by presenting a short sketch from the play 'This is not an Egyptian Film,' highlighting various ways in which men subjugate women, both physically and psychologically, while Syrian singer Faia Younan drew the event to a close with a performance of three strong symbolic songs, the last of which was Mowtiny (my homeland). "I sing this hoping that all women will achieve equality in citizenship without having to bargain for equality."