All I want for Christmas is LAU
Thanks to hardworking and dedicated technicians a festive spirit sweeps through LAU campuses.
This year, the spirit of Christmas shone brightly from both LAU's Beirut and Byblos campuses. Students and staff gathered to marvel at the beautifully lit decorations, and even people from outside the university have asked for permission to cross our gates and take pictures.
The enormous effort put into this year's festive decorations made everyone feel as if LAU really was their second home.
The jewel in the crown of what the students on the Byblos campus considered "a Christmas masterpiece" was made by hand and from scratch by the university's technicians and maintenance team. The team, who met a while back, decided to involve everyone in this year's process by encouraging them to pitch in ideas. Together they worked to craft a miniature town complete with its own grotto and then they decorated the buildings and fountain in warm colored lights. The joint effort and teamwork reflected the spirit of Christmas in a grand display that reached beyond the campuses to the communities.
Assistant Vice President for Facilities Management, Georges Hamouche, expressed his pride in his team and his pleasure with what they were offering the community during the holiday season.
A feeling also conveyed by Business student, Maguy Farah, who exclaimed, "All I need now is a mug of hot chocolate and this can officially be my home away from home. The campus is so comfy that I don't want to leave!"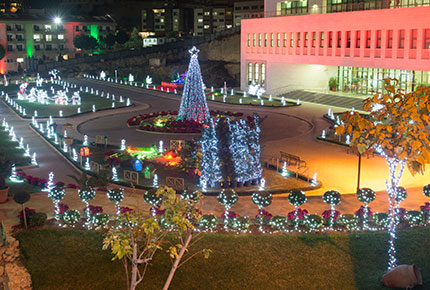 "Thanks to the Christmas spirit we were able to create a magical winter wonderland from scratch. Even though we divided the work, people kept on coming up with spontaneous ideas. It was in no way a one-man show, it was a team effort." Charbel Eid, maintenance manager.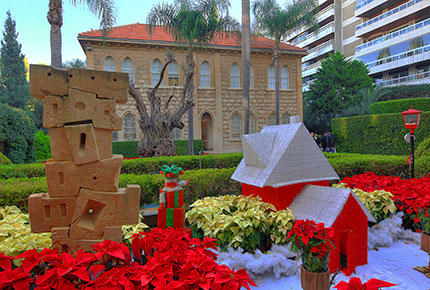 "For the Maintenance Department, the Christmas spirit starts long before the festive season. It all begins with market search for the selection of lights and ornaments. Once the material is ready, technicians from all maintenance trades come together to work hand in hand to set up the decoration all over campus." Antoine El Beik, senior maintenance manager.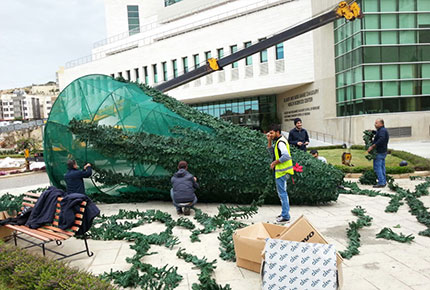 "I'd hear the students' comments and take them into consideration while fixing the decorations, and now even people who are not involved with the university have been gathering at our gates asking if they can take pictures next to them." Charbel Choukeir, electrical technician.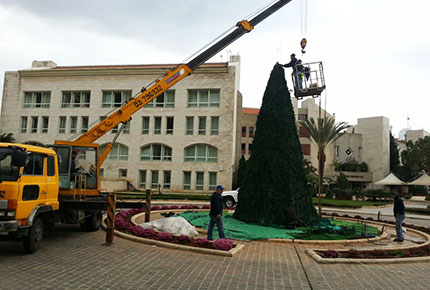 "The team who worked on the Christmas decorations has grown to become a family. Even my wife came to help with the ideas." Raymond Kraini, technician.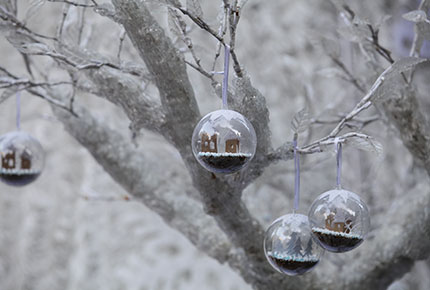 "The fact that the LAU staff and technicians thought about all this and created it from scratch, makes me realize that there are people who actually believe in a true Christmas spirit, which is defined by happiness and putting a smile on someone's face." Christophe Khoury, Computer Engineering student.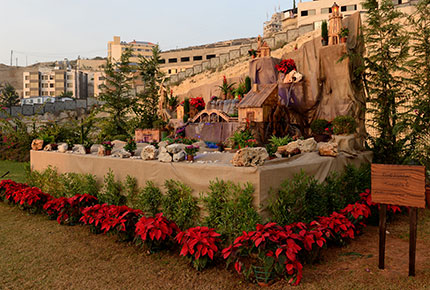 "The technicians had our full support, from the idea of the grotto to that of crafting a village! I was very pleased with the final outcome. The decorations make the campus look warm and beautiful, and every student who compliments our work makes me feel like they're complimenting my home." Roula Boustany, associate director of Operations and Maintenance.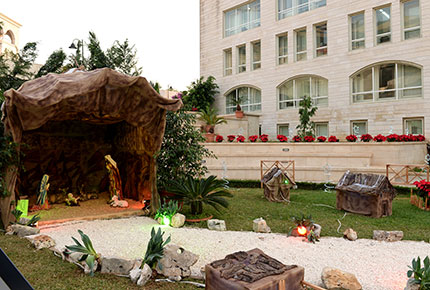 "I was working on the waterfall in the miniature town and I slipped in the water. We laughed it off. These memories will remain forever; it has brought us all closer, like family." Sami Kassis, technician.
"It is during this time of year that our work becomes visible to everyone. Our own approach to our daily routine is different as our goal is to make people on campus feel joyful and we do feel this through the way people engage with us, thanking us for what we are doing." Samir Aoun, senior technician.