An exciting new chapter starts for 52 scholarship winners
An LAU–USAID program gives students from economically disadvantaged families around Lebanon the opportunity to get a fully funded education.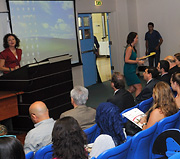 Dr. Elise Salem, LAU VP for SDEM, addresses the 52 USAP students and university officials during the start of a three-day special orientation.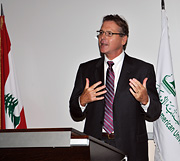 Timothy Alexander, director of the USAID–Lebanon program office, congratulates the students on their hard work and academic successes.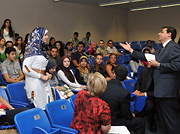 Abdo Ghié, LAU AVP for Enrollment Management, asks students to stand up by major and introduce themselves.


Elie Samia, director of USAP at LAU and executive director of LAU's Outreach and Civic Engagement unit, explains the leadership initiatives the students will participate in during their time at LAU.


USAP students get to know one another during their first day of orientation at LAU Beirut.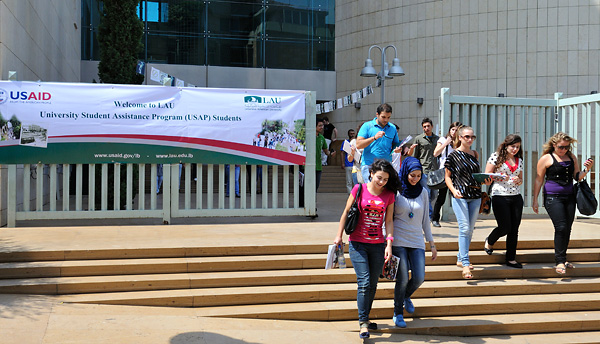 USAP students leave the LAU Beirut Business Building to take a tour of the campus.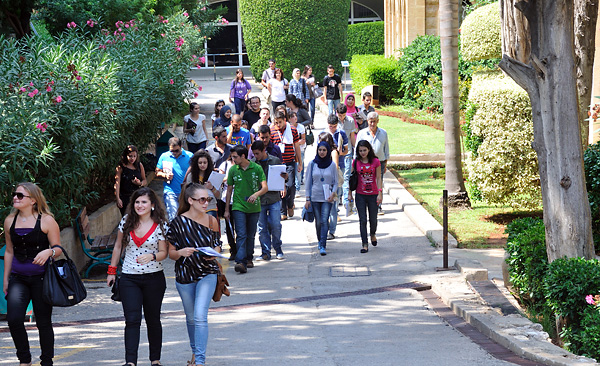 The USAP students during the Beirut-campus tour.
Click on any photo above to view all seven images.
For many of the 52 undergraduate students recently accepted into the University Student Assistance Program, a USAID-funded initiative that provides full scholarships to public school graduates with high financial need from around Lebanon, arriving on campus for orientation still feels like a bit of a dream.
"Sometimes I feel like this can't be happening, it can't be real," says Majdoleen Al-Chmouri, 18, from the Al Marj area in the Bekaa, who will study communication arts with a journalism emphasis at LAU Beirut. "When I think about USAP and LAU, I think that dreams really can come true. I look forward to this next phase in my education," she adds.
Israa Yassine, 18, from the Bekaa village of Kablias, agrees. "I really didn't believe it when they called and told me I had been selected. A full scholarship to study at LAU? I had to hand the phone over to my family and take a deep breath. Living in Beirut is going to be a whole new world for me, but I'm excited," says the computer science major.
The USAP selection committee, headed by LAU's Enrollment Management unit, spent a year scouring public high schools in Lebanon's 26 districts for the best and brightest students from families with high financial need.
The selected candidates gathered at LAU Beirut — all together for the first time — during a special three-day orientation that began on September 12.
"Your perseverance, hard work, excellent academic performance, and engagement in your communities brought you here today," Abdo Ghié, LAU assistant vice president for Enrollment Management, told the students during the opening ceremony.
USAP was launched after the university won a $6.9-million USAID grant in late September 2010 to support the project. LAU Admissions officers then visited 238 public high schools to spread the word about the program before the application deadline on January 31, 2011.
"I remember a lot of stunned reactions when we were explaining the scholarship," said Ghié. "Many of you and your school directors couldn't believe what the American government and people through USAID and LAU were offering. Full tuition fees coverage? A monthly stipend? Housing? A book allowance? 'What is the catch,' you asked. Well, there is no catch — you deserve to be helped and we're here to do so."
The initial pool of 386 applicants was whittled down after assessing high school grades and scores on the English Entrance Exam and Sophomore Exam. The final 52 were chosen in June after individual interviews with the selection committee and the LAU Financial Aid and Scholarships Office, and after receiving their Lebanese Baccalaureate scores.
"When we met you for the interviews, we were so impressed with your intelligence, your thirst for knowledge, your desire to get a top education, your leadership, communication skills, and your desire to do good for yourselves, your families, communities and Lebanon," said Dr. Elise Salem, LAU vice president for Student Development and Enrollment Management, during the orientation.
LAU President Dr. Joseph G. Jabbra commended Salem and the Student Enrollment and Admissions teams for their role in the program. He added: "Our thanks and gratitude on behalf of LAU — and the students admitted in this exciting program — go to USAID and to the American people for their generosity and friendship."
Salem also thanked the American people for supporting "this amazing program which has dedicated so much effort toward educating the youth of Lebanon."
Speaking at the orientation, Timothy Alexander, director of the USAID-Lebanon program office, highlighted the long, fruitful relationship between the American and Lebanese people since USAID's establishment 50 years ago.
He said this is the first time USAID is funding full undergraduate scholarships plus additional educational costs for public school students in Lebanon.
"USAP promotes tolerance, gender and social equity, job opportunities, and challenges students to develop leadership skills, critical thinking and initiative," Alexander said.
In the hope that students will use their skills and knowledge of particular industries to improve Lebanon in the future, chosen applicants were required to enroll in one of 13 majors deemed important to the country, including education, nursing, engineering, business, social work, and communication arts.
"Part of the conditions of your grant is for you to become the future leaders of Lebanon," Elie Samia, director of USAP at LAU and executive director of the Outreach and Civic Engagement unit, told the students. "Our office, OCE, will provide you with a space to be actively involved in your community. We want you to be creative and to discover your voice."
The selected USAP students are comprised of 63 percent females and 37 percent males from 23 districts around Lebanon. Twenty-one will be attending the Beirut campus and 31 the Byblos campus.
"This is going to change my life," says Mohamad Ibrahim, 17, a nursing major from the Marjayoun district in the south. "I'm not sure where the nursing degree will take me, but I hope to work in a top hospital some day."
Ziad Khoder, 18, from Akkar in the north, will be studying mechanical engineering in Byblos. "I know a degree from LAU will offer good job opportunities after graduation," he says, adding, "It's a once-in-a-lifetime scholarship program and I'm excited to get the chance to excel at LAU."