Are you man enough to be a nurse?
LAU's nurses have chosen care for people over prejudices.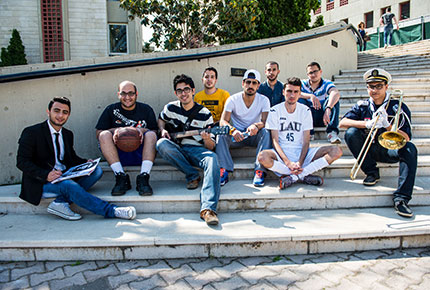 To this day, the perception of men and women as being inherently different tends to confine both genders into so-called "occupational ghettos." Nursing is one of the many examples of this phenomenon. Socially-constructed stereotypes present the nursing profession as typically feminine, both because of the nurturing nature of the job and of its status as an occupation of lower prestige.
"Doctors are male and nurses are female, this is how society unfortunately still refers to these two professional figures," says Nancy Hoffart, founding dean of LAU's Alice Ramez Chagoury School of Nursing.
For example, in 2012 the percentage of male students enrolled in nursing in the U.S. did not exceed 16 percent, according to the National League for Nursing. However, between 2000 and 2010 the proportion of men entering the profession has increased by 12.5 percent, a figure that raises hopes for the future.
In Lebanon, numbers are encouraging, yet still well below desirable standards. A 2012 survey shows that almost 20 percent of professionals registered in the Order of Nurses were male. According to Hoffart, LAU is witnessing promising rates of male enrollment. Of the students who graduated this spring, 22 percent were male. The proportion among rising juniors is even higher, at 24 percent.
President of the LAU nursing club and class representative Hratch Moskofian considered becoming a doctor before opting for his present career. "I chose nursing because I noticed something in me: a true care for patients," he remembers. "It's not enough to be smart to enter this profession, you have to have a greater degree of empathy."
Like him, many students choose to ignore senseless prejudices to follow their true passion. Mohammad Ali Bdeir entered LAU in 2012, the year his grandfather passed away. "I was inspired by the work of those male nurses who took care of him," he says. "Despite having been accepted by the School of Business, I chose instead a profession that makes me happy and makes other people happy."
Furthermore, the persistent international shortage of male registered nurses has lead to a favorable moment for men seeking to enter the field, who enjoy high employment rates and an array of international opportunities. "Nursing sometimes requires physical strength," says Ahmad Al Jammal, who just completed his sophomore year. "This is why hospitals are very keen to employ male nurses."
Recent research has shown that patients respond more positively to nurses whom they can relate to. Diversifying the workforce in terms of race, gender and geographic distribution is therefore a priority for all health institutions that wish to provide the highest quality service.
In his presentations to prospective students, LAU's clinical instructor Mahmoud Ghouzail always makes sure to point out the career opportunities open to those with a degree in nursing. "People tend to think that a nurse is only in charge of showering patients, but this is a misconception," he says. "Nurses use a breadth of healthcare knowledge when giving clinical care. In addition to advancement opportunities and leadership roles in clinical care settings, this degree also allows you to work in positions such as a medical representatives or as an advisor to insurance companies."
To those students now considering enrolling to earn a bachelor's degree in nursing, Ghouzail has only one thing to say: "You have to be man enough to be a nurse, to challenge stereotypes and prove to your friends and family that you can progress in this career and follow what you are most passionate about."
"Are you Man Enough to be a Nurse" is the title of a campaign launched by the Oregon Center for Nursing in 2002.