Art, justice, and societal transformation
Dutch expert in gender studies offers insight into alternative scenarios for justice after periods of gross human rights violations, using post-apartheid South African artists as an example.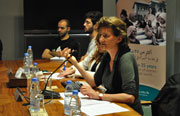 Dr. Rosemarie Buikema, professor of art, culture and diversity at Utrecht University in the Netherlands, addressing the audience.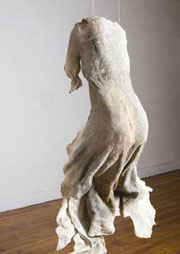 Sculpture by South African artist Nandipha Mntambo, inspired by the life and death of anti-apartheid activist Phila Portia Ndwandwe.
Click on the photos above for larger version.
Gender studies expert Dr. Rosemarie Buikema examined the shifting relationship between legacies of oppression and feminist and post-colonial theories during a lecture for faculty, students and gender-studies enthusiasts at LAU Beirut on May 3.
Organized by the Institute for Women's Studies in the Arab World (IWSAW), the lecture addressed the role of art in a country or community's social transformation process after a period of gross human rights violations, focusing particularly on the case of post-apartheid South Africa.
"Dealing with past violations of human rights," says Buikema, "calls for strategies that enable consideration of complexity — that is, the multilayeredness of oppression and multilayeredness of victimhood."
Once the yoke of oppression has been cast off, she adds, the biggest obstacle in the way of enduring change is the lack of a new structure, or a new language of address.
In this way, many South African artists have proved exemplary in dealing with the legacy of apartheid, taking their cue from the Truth and Reconciliation Commission, the restorative justice body assembled in South Africa after the abolition of apartheid.
Buikema told the story of Phila Portia Ndwandwe, a member of a secret armed wing opposed to the country's former apartheid regime, who disappeared in 1988. Almost 10 years later, as part of the TRC investigation, her skeleton was unearthed after the man who killed her led authorities to her remains. It was widely hailed as a case that brought some closure, understanding and reunion, according to an Associated Press article published at the time.
Her case, and other well-known cases of women murdered under apartheid, inspired South African artists Judith Mason and Nandipha Mntambo, among others, to use art to commemorate their deaths and re-tell their stories.
"What we learn from these artworks is that one single, factual story can be told in many different ways," Buikema told the audience. "There are feminist scholars working to design as many scenarios as possible — to give Phila Portia Ndwandwe the story she earned, one stressing her agency less than her victimhood."
Dr. Dima Dabbous-Sensenig, director of IWSAW and the event's moderator, praised Buikema for synthesizing such complex topics as oppression, victimhood and restorative justice, and relating them to feminist theory. "You're also talking about transitional justice, which is a concept that hasn't really been used in the Arab context, but we're working on it," Dabbous-Sensenig said.
Buikema is professor of art, culture and diversity at Utrecht University in the Netherlands, chairs the UU Graduate Gender Program, and is the scientific director of the Netherlands Research School of Women's Studies.