Beyond gender
This year's winners of the Mary Turner Lane award tackle the thorny issues of identity and mental health.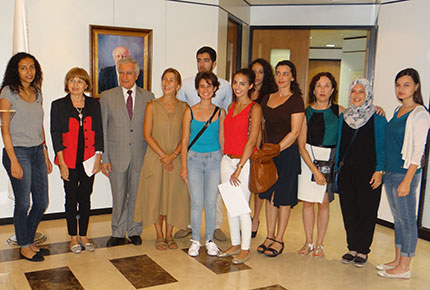 "They still do not see themselves as fully responsible for their own lives," said Mary Turner Lane, life-long advocate for gender equality, referring to women back in 1987. "The good part is they have begun to think along non-traditional lines in terms of work." In this respect, this year's winners of the Mary Turner Lane Award would have made her confident in gender studies' bright future.
Established by her daughter Mary Ellen Lane, the award — consisting of a certificate and a sum of $250 to each of the two student winners — seeks to generate awareness and promote gender studies.
This year's winning papers bravely tackled cultural identity and mental health from a gender-oriented perspective. Yara Nahle's paper, supervised by Associate Professor of architecture and design Yasmin Taan, associate professor of architecture and design, analyzed the work of Iranian visual artist Shirin Neshat, famous for her powerful images of veiled women — sometimes holding weapons — with Persian calligraphy superimposed over their faces or body.
"In her work, she is always in search of home, as she is torn between her traditions and her new life in exile," explains Nahle. Neshat's art revolves around the concept of femininity in relation to the prevailing political and religious structures. According to Nahle, the artist should be appreciated because "she does not praise everything that is Western" but remains critical of both systems with regards to gender equality.
The second winner, Serine Jafar — supervised by Jenine Abboushi, assistant professor at the English department — presented a compelling analysis of the boundaries between sanity and madness and offered a new perspective on the notions of time and space in relation to gender.
"Madness can sometimes mean having the courage to defy social norms, to go against what is conventional," says Jafar. Her paper also explores the concept of time and space — distorted by those who experience madness — and the conventional association of the "feminine" with space rather than time.
This year's committee had a particularly difficult time selecting the most noteworthy papers. "All papers submitted to us dealt with gender issues in a very sensitive and thoughtful manner," says Samira Aghacy, director of the Institute for Women's Studies in the Arab World (IWSAW).
A third student, Zeena Amkieh, received honorable mention for her testimony on the traumatic experience of women with bulimia nervosa. Her paper will also be published in IWSAW's Al-Raida journal together with the winners'.
"I would like to encourage all students to participate next year, as we feel their involvement will truly make a good contribution to women and gender studies," Aghacy adds. Participation is open to students of all faculties and, of course, of both sexes.
According to Taan, gender inequality harms men more than women. "Which woman would like to go out with a man without a car or a good career?" she asks provocatively. "Gender studies does not concern only women, it is about bringing up taboos and challenging what we were taught."
While handing out the award, LAU President Joseph G. Jabbra reiterated LAU's commitment to continuing Mary Turner Lane's battle for gender equality and to keeping her memory alive.
In 1976, Mary Turner Lane became the first director of the Women's Studies Curriculum at the University of North Carolina, a program that she had helped establish. For more than 30 years, Turner Lane championed women's rights both on campus and beyond, at one point even serving as advisor to Egyptian government. In tribute to her mother's work, her daughter, Mary Ellen Lane, established the award aimed at generating awareness about the IWSAW and the importance of conducting research in the field of women and gender studies.