Blending through experimentation: an architectural journey with Benedetta Tagliabue
Famous architect Benedetta Tagliabue shares her experience and thoughts with LAU students and faculty.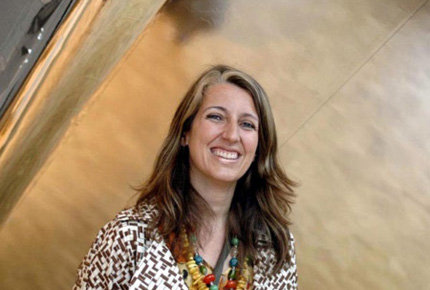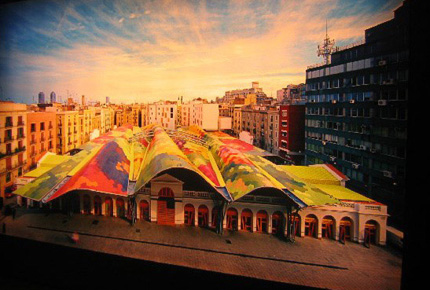 The lecture hall at the Wadad Said Khoury Student Center on September 22 was heaving with students and professors of architecture, all keen to learn from the experience of Benedetta Tagliabue.
The Italian architect had landed in Beirut the afternoon of her lecture and would be leaving back to Barcelona, where she has lived and worked for over two decades, that same night. "I didn't have the time to tour Beirut, but I had an impression from the sky. The city is very dense, much taller and bigger than I was expecting. The topography is incredible, with the hillside and the coast."
Her late husband, the renowned Spanish architect Enric Miralles with whom she practiced since 1991, died shortly after his visit to Beirut in 2000. "He came back so enthusiastic," says Tagliabue of Miralles' visit. "He said Beirut is a fantastic place, full of energy. This visit for me was somehow a little romantic and nostalgic as a result."
Tagliabue began her talk with a detailed account of one of her firm's most prominent projects, the Santa Caterina market in Barcelona. She touched upon topics and challenges familiar to Lebanese architects, notably the need for public space, the importance of involving the community in the development process, the use of artisans whose profession is now under threat and the challenge of discovering archeological ruins during construction. "Our motto was 'destroying with care'. We had to respect the existing land and structures and allow them to dictate the rules for construction."
Indeed, construction was halted for two years after a monastery was discovered, and parts of the archeological dig were preserved and left visible as part of the public space honoring the original market and its purpose while adding new life to a decaying space. "The market was old and grey and they wanted to demolish it. We were living in the area and did not agree with their plans for the space so we developed an alternative plan. It was activism. A special moment, an opportunity, enabled a transformation in the city that brought a neighborhood back to life."
Tagliabue believes that a process of openness began in Barcelona as a result of the Olympic Games hosted by the city in 1992. "Barcelona transformed completely with a policy of opening up, and the Olympics were crucial in starting the process. It was essential to have architects and urban planners coming from the universities who were able to give suggestions and beautiful drawings to the politicians. Universities are important."
Tagliabue has taught at Harvard, Columbia and the Barcelona School of Architecture, and believes that dialogue is an essential part of her profession. "I started teaching with my husband. He believed very much in the process of 'doing and conversing'. I continue to teach courses and give many lectures and workshops and participate in media programs. I always say 'yes' to invitations because I think openness is very important." She refers to the development of the Renaissance and the pivotal importance of knowledge-sharing during the time, saying: "I feel we have to try to do the same."
Tagliabue's lecture was the first in a series of public lectures hosted by LAU's School of Architecture and Design. Next month Stefan Tischer will speak at both the Beirut and Byblos campuses. For more on that and future lectures, visit the SArD website.