BOT Secretary Joseph Maroun reveals his rise to the top
Get to know LAU trustee Joseph Maroun and his rise from successful aircraft engineer to thriving entrepreneur.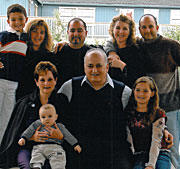 Joseph Maroun with his family.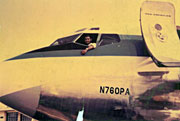 Maroun in a Pan Am plane.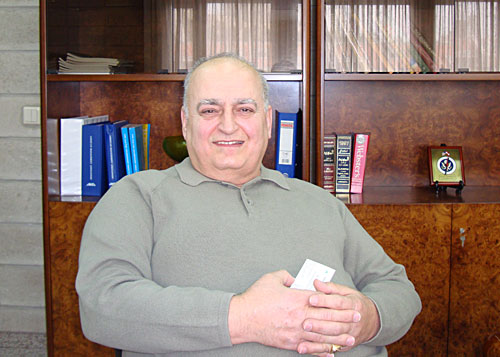 Maroun at a recent LAU visit.
Click on any photo above to view all three images
Joseph Maroun is an emblem of perseverance. The Lebanese-born entrepreneur immigrated to the United States as a teenager in pursuit of an education in aeronautics.

In 1963, he graduated from the Pittsburgh Institute of Aeronautics with a degree in aircraft maintenance engineering. With a hunger to fly, Maroun earned instrument, private, and commercial licenses and a certificate in air transport from the Sierra Academy of Aeronautics in 1968.

His determination landed him a promising career in the aviation field, where he worked as engineer and pilot with such giants as Pan American World Airways and the Federal Aviation Agency.

"My dream was to fly," he said. But after having traveled around the globe, he felt he would prefer a more stable life, and he still longed for the sweet idiosyncrasies of life in Lebanon.

"There was no pita bread around the San Francisco Bay Area," he said. Whenever he was able to get some thanks to his brother, he would "guard [them] as gold."

So, Maroun thought he could bring the Lebanese staple to America's west coast. "This was something I did not know much about, but there was no competition," he said.

While balancing a successful career and fatherhood, Maroun mastered the art of making pita bread by spending time at a Beirut bakery during his weeks off, and soon plotted to establish his own company.

Fearful of the outcome, he remembers what he once told his wife Carmen: "Potentially, we might end up with an olive and a piece of pita bread for dinner."

Despite the risks, the couple followed their heart and in 1975 rented a quaint space to begin operation.

More than 30 years later, Caravan Trading Company is renowned for its speedy production of 44,000 bagels per hour, delicious Mexican breads, luscious sweets and, of course, pita bread.

The company is the trusted provider of Meals Ready to Eat for the U.S. military, and the creator of the Ready-To-Go Emergency Food Kit for disaster situations.

Maroun's wife and sons, Will and Joseph Jr., were instrumental in the growth of the company, which now sells products to some of the largest baking retailers and consumers in the U.S., including George Weston Bakeries, Thomas', Bimbo Bakeries (Oroweat), Otis Spunkmeyer, and the Department of Defense.

No matter how far Maroun soared in the business realm, he never strayed from the reality of those in need. On behalf of Caravan, the Maroun family donated over 100,000 Ready-To-Go kits in 2005 to the victims of the Southeast Asian tsunamis.

Stateside, Maroun is an executive committee member of the American Lebanese Foundation.

He's been serving on LAU's Board of Trustees since 1996. According to a BOT decision taken last month, Fred Rogers will succeed him as secretary in October.

The couple has also founded The Joseph and Carmen Maroun Endowment Scholarship Fund to ensure equal opportunities to deserving, financially disadvantaged LAU students.

"If I had to do anything within Lebanon it would be through institutions to educate people… to give them opportunities," said Maroun. That's why he's particularly pleased with LAU's initiatives of establishing the Medical School and Frem Civic Center.

Maroun is also affiliated with philanthropic organizations in Lebanon, such as the Lebanese Association of SOS Children's Villages, Auxilia, and Caritas. He also sponsors three Lebanese children by paying regularly for their educational, hospitalization and clothing needs.