Bridging the gap between higher education and industry
Continuing professional education experts and employers gather at LAU for a Euro-Mediterranean conference on life-long learning.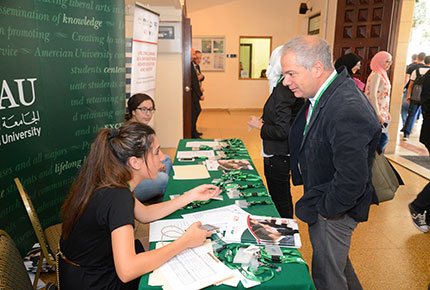 Globally, 73 million young people are currently looking for work, according to the World Economic Forum. This figure offers a snapshot of how competitive the job market has become. Understanding what employers are really looking for is therefore a priority for excellence-driven academic institutions.
"Learning is a life-long commitment," said LAU Provost George K. Najjar during a conference hosted by LAU on October 7 in collaboration with Notre Dame University (NDU) to discuss — together with the EU representative in Lebanon — effective ways of bridging the gap between higher education and industry.
The event, organized by LAU's Continuing Education Program (CEP@LAU), was the culmination of the Euro-Mediterranean Integration through Lifelong Learning (EU-MILL) initiative, a three-and-a-half year program funded by the European Union. With the EU-MILL Tempus program the European Union aims to facilitate cooperation in the field of higher education between its member states and partner countries. In the Middle East these include Morocco, Algeria, Tunisia and Lebanon. In establishing national strategies based on a common framework of lifelong learning, the agreement seeks to promote the advance of a knowledge-based economy.
The project also looks to create a network among the participating Euro-Mediterranean universities, while enhancing the relationship between institutions of higher education, developing constructive and collaborative dialogues, and providing professionals with updated training. Policy makers, governments and in particular ministries of education are encouraged to enhance strong connections and play a prominent role in life-long learning education.
The conference offered participants the opportunity to discuss how best to bridge the gap between higher education and industry, ensuring the attractiveness of graduates for future employers. For Kamal Abou Chedid, dean of the Faculty of Humanities at NDU, the key lies in the assessment of the job industry, which would imply tailoring programs better to suit existing market needs. Diane Nauffal, executive director of the Institutional Research & Assessment Department at LAU, believes that assessment applies to both sides. "We have teaching, but do we have learning?" she asked. The direct measure of an educational program's success is, for her, not the output but its outcome, which is why assessment should be a continuous cyclic process.
"This conference galvanizes the national challenges ahead in continuing education and raises the awareness of the tasks forward," said Michel Majdalani, head of CEP@LAU, who stressed the importance of quality control over continuing professional education in the country.
"All certifications are not created equal! Hence the urgent need of implementing the Lebanese National Qualification framework," he said.
LAU established CEP 25 years ago. The program currently offers more than 50 in a variety of fields and reflects the university's commitment to adult education and its firm belief that updating professional skills is key to socio-economic development.