Bringing home the bacon
LAU students place first and third in EuroValencia 2012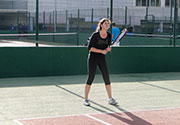 Kim Saidi in her semi-final match against Serbian adversary.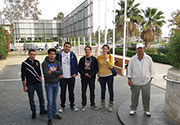 LAU tennis team in Valencia with coach Said Karam.
Click on any photo for larger version.
 LAU's first participation in EuroValencia 2012, turned out to be a victorious one.
After months of laborious training and strenuous preparation, LAU students Kim Saidi and Mohamed Rifai crossed the Mediterranean and came back with flying colors, Saidi coming first in the tennis tournament, and Rifai taking third place in the table tennis tournament.
"It was a positively memorable experience," says Saidi. "Valencia is beautiful, and participating in a tournament of this caliber is so gratifying."
The inter-university sports tournament aims to create a platform for improving the relations between students from different countries and cultures.
University students from Bulgaria, Romania, Switzerland, Serbia, Italy, Croatia, Spain and Lebanon converged at EuroValencia from November 22-25, bringing diversity and fervid athletic talent to Spain's third largest metropolis.
Saidi's title worthy performance at EuroValencia follows another achievement; being crowned LAU's Female Athlete of the Year in 2011. She played with unparalleled vehemence against two Croatian and Serbian students in the quarter- and semi-finals in Valencia. But the true challenge for the pharmacy student was competing against her sister Kate, who was representing Saint Joseph University, in the final.
"We've played against each other hundreds of times before, we always practice together," says Saidi. "This time it was different because we both had to win. But Kate played extraordinarily well, it was a really great game."
For computer science student Rifai, participating in EuroValencia was never about winning or losing, it was about rising to the challenge.
"I played against brilliant players from Europe, Asia and Africa, and it was not easy. But the experience itself — knowing that I was just as skillful these players, even more so in some instances — was the true win," notes Rifai.
"Our students compete against local teams day in and day out, but we always strive to make sure they are exposed to international competition at the collegial level as well," says LAU Beirut Athletics Director Sami Garabedian. "It's very important for them to go to new countries and experience new cultures."
Congratulating the LAU community, President Joseph G. Jabbra welcomed the triumph saying, "We are proud of our students and of our coaches."