Budding literary critic attends U.K. mentoring program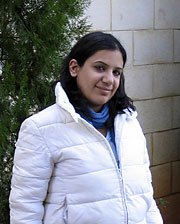 March 6, 2006—
English Literature major Aya Kallab participated in the "Young Critics Programme" organized by the British Council and Visiting Arts in late January 2006.
The workshop, grouping 12 budding literary reviewers from four countries, focused on letting participants develop critical faculties and writing skills.
Kallab, 25, didn't hesitate to submit a review of Joseph Conrad's Heart of Darkness to apply as soon as she heard about the mentoring program.
"What used to annoy me most in school was that we were supposed to learn and not to criticize," she said. "I used to review and criticize information in writing but never published my critiques."
The intensive 10-day program included tutoring in visual arts, dance, music, drama, film and literary criticism. It involved a four-day stop in Scotland to attend lectures at the Glasgow School of Arts, a two-day visit to Newcastle's Gateshead cultural venue and a final hop to London where the students visited a number of art museums.
Such variety dovetailed with Kallab's additional interests in music and the theater.
The other young critics on the program were six British university students, two Pakistanis and three Palestinians.
To follow up on the program, a British student will visit Lebanon, while three others are scheduled to travel to Palestine and another two to Pakistan, to be introduced to the arts of those countries.