By his mother's deathbed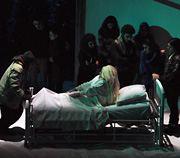 A scene from A Shell in the Heart, LAU's latest major theater production directed by Dr. Lina Abyad. Wahab at his mother's bedside.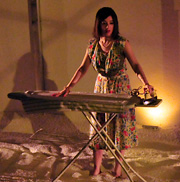 The young mother, a representation of the beauty of Beirut before the war.

Wahab remembers his childhood self.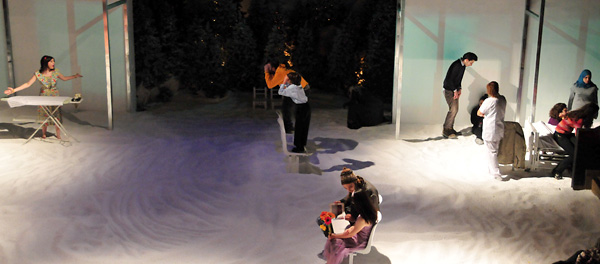 The family during Wahab's childhood.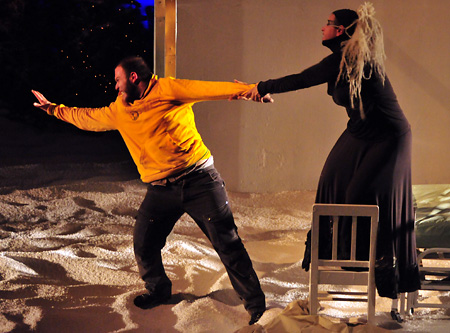 A representation of death attacking Wahab.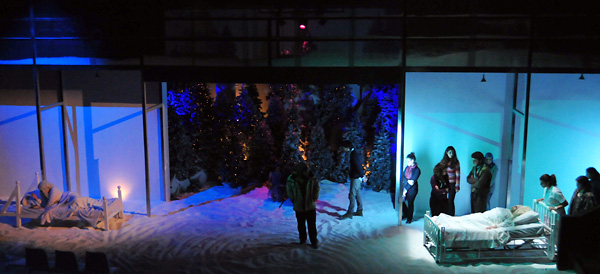 The play was based on a 2007 homonymous novel by Majdi Mouawad, a Canadian-Lebanese actor, comedian and author.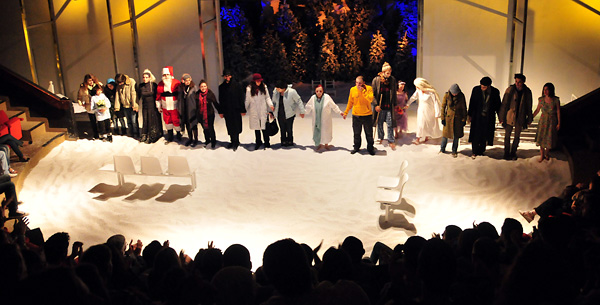 The full cast at the end of one of eight performances given this month.
Click on any photo above to view all seven images.
May 24, 2011—
It was one of those plays where you thank God the room is too dark to let your friends see tears streaming down your cheeks.
The central character, 19-year-old Wahab, leaves you perplexed, like a victim and perpetrator at the same moment. He is deeply saddened, but mostly angered, both at himself and at his mother who can't help but force him to watch her slowly die of cancer.
Perhaps that's what living with death does to some. A myriad of complexities and contradictions, and the only thing you wish for is that it was you who was dying, and not the sick woman crying in torment.
"Usually, death doesn't happen on the stage," explained Dr. Lina Abyad, the director of A Shell in the Heart, as the latest major theater production organized by LAU's Communication Arts Department was called, during a Q&A after the May 5 performance. "It usually happens behind the scenes, then you bring it in. Here, we witnessed it as it happened."
Performances continued till May 15, at the Gulbenkian Theatre, Beirut campus.
The play was based on a 2007 homonymous novel written by Majdi Mouawad, a Canadian-Lebanese actor, comedian and author.
The mother calls Wahab into her room where she is lying motionless. Her voice, once strong and confident, has dried out.
"I'm in pain, Wahab," she tells her son.
"I know, but what can I do?" Wahab shouts. "Just tell me, what can I do!?"
A Shell in the Heart forces you to relive those experiences trying to comfort a loved one in their hospital bed, gripping onto their hands and staring them in the eye, with the mutual recognition that soon they will be dead, and there is nothing anyone can do about it.
Wahab's brother calls him to the hospital where his mother, it seems, is near the end. He arrives to the hospital, but falls to his knees in the parking lot under the falling snow, wishing for a bomb, or something, anything, to put an end to the misery.
For the most part, the play is set in contemporary Lebanon, but flashes back several times to the innocent days of Wahab's childhood. His mother, wrapped in a stunning summer dress and bead necklace, dances as little Wahab rides his bicycle in circles.
Death, then, was outside, beyond the walls of his home — explosions and gunfire rocked a country at war — but inside, there was serenity.
"The [young] mother represented the beauty of Beirut before the war," says Abyad, who is an assistant professor of communication arts at LAU.
Back at the hospital, Wahab climbs to find his family standing over the mother, remaining by her side till she takes her final breath.
"Mama," Wahab calls to his deceased mother. "I would have liked to have known you better. I know you're not here anymore, but you will always be with me."