Byblos campus gets greener
LAU Byblos launches a recycling campaign in an effort to make the campus — and its students — more environmentally friendly.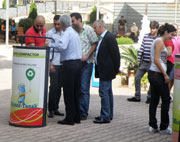 Byblos Dean of Students, Dr. Mars Semaan, shows students and faculty how to use the cans compactor, donated by Mister-Tanak.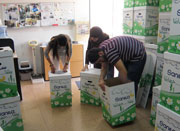 Student volunteers prepare the paper recycling boxes donated by Sanita.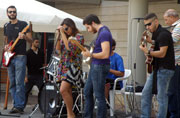 The LAU Byblos recycling campaign kicked off with live entertainment.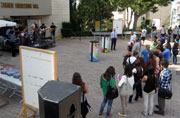 Students and faculty gather near the fountain at LAU Byblos for live entertainment and a tutorial on how to use the cans compactor.
Click on any photo above to view all four images.
 One month after LAU Byblos kicked off a campaign to recycle paper and aluminum cans, Dr. Mars Semaan says that though much remains to be done, the campus's environment has improved dramatically.
"We're essentially trying to bring about change in a culture where you see people throwing trash out their car windows," says Semaan, the dean of students on the Byblos campus. "Ours is not a simple approach and it will take time, but I'm confident that we will have come a long way by spring."
The campaign began on October 17, when students gathered for live music and refreshments around the campus fountain. Mister-Tanak donated two compactors, each with a capacity of 2,000 cans, and Sanita donated cardboard boxes for paper disposal. Students tried out the compactors as they finished free soft drinks provided by PepsiCo. Multiple bins, also from Mister-Tanak, were placed around campus as receptacles for empty cans.
Semaan says that, so far, the paper-recycling aspect of the campaign is "working extremely well."
"Aluminum is working less well," Semaan candidly admits. "We don't have enough bins outside, and unfortunately some of those we do have are being used for general trash."
But Semaan has faith that with better communication — his office has created posters with a "cans-only" picture to be placed above special bins — student awareness and compliance will increase.
The two compactors, which are currently placed in the cafeteria and dorms area, are meanwhile getting plenty of use, he says.
Semaan's office is also working on getting special bin covers with slots only big enough for cans to fit through, says program coordinator Alan Kairouz.
"The aluminum component of our campaign is taking some time to catch on, but we are very happy that the paper part is doing wonderfully," Kairuz says. "We already have a huge amount and we're trying to work out a bigger storage area."
He adds that faculty members have been calling him to request more paper-recycling bins for their offices, which is "very encouraging."
Both Semaan and Kairouz emphasize that this campaign isn't only about recycling; it's about decreasing litter, making the campus more beautiful, and raising overall consciousness about how we treat the world around us.
"Globally speaking the environment is a hot issue," says Kairouz. "It's about time that we in Lebanon became more aware of what's going on — both in our atmosphere and on the ground — and of what we can do to address it."