Byblos commencement speakers underscore human values
Graduates are urged to work together for Lebanon's progress and to uphold human values in their technology-saturated lives.
Students in graduation garb huddled with peers, taking selfies, rehearsing, and adjusting each other's attire one last time before the beginning of the 27th Byblos campus commencement yesterday evening.
The graduates stood on the Frem Civic Center stairs preparing to march, followed by the university's officials and faculty, as family and guests slowly filled their seats.
As the ceremony started, rejoicing students waved with excitement as they spotted their families and friends among the crowd, or themselves on the two giant screens put up especially for the occasion.
"We gather here tonight to celebrate the achievements of the LAU family during this past academic year and to share in the joy of our 2017 graduating class," said LAU President Joseph G. Jabbra before offering an overview of the university's strategic and academic accomplishments.
"We need to do more, to be indefatigable, to continue to self-improve in serving the young people of Lebanon, the MENA region, and beyond," he said to thunderous applause.
Valedictorian Hawraa Raoof, a biology major graduating with a 4.0 GPA, said, "My years at college, here at LAU, were life-changing."
"It is at LAU that we learn how to have a stake in our country's progress and in our destiny, and how to have, through excellent education, the wealth of opportunity to change our world for the better," she said.
"Let's leave our mark on a world that is different because we passed through it, because we are able to shape it and not only be passively shaped by it. Let's dare to be extraordinary," said Raoof.
Her words resonated with the first honorary degree recipient, Chairman and CEO of G&Co Real Estate Development Joseph Ghossoub, a father of three children, two of whom graduated from LAU.
"What's left to say? Hawraa said it all!" he declared, before thanking the university for the "exceptional recognition."
A pioneer in the MENA region's advertising industry, Ghossoub is the founder of what is now known as MENACOM Group, one of the most successful communications groups.
In his delivery, he called on the students to be agents of change. "You have no choice but to think outside the box and be innovative enough to look for roles that would differentiate you from your peers, and strangely, from machines," he said. In a world that might be taken over by artificial intelligence, he urged the students to stick to the human values of compassion, loyalty, empathy and tolerance of others.
Such values are the compass that keeps one from going astray, according to award-winning TV journalist, executive producer and host Marcel Ghanem, who also received an honorary doctorate in humane letters.
"Dear students, I hear too much about emigration and thoughts that this country is not worthy of your success and achievements, and even worse: that you have stopped caring or have given up … I understand you but escaping is not the solution," he added, urging them to have a dream, to have opinions, defend a cause and leave their mark.
For Ghanem, who never had the joy of sharing his own graduation with his family due to the Lebanese civil war, the event had a special meaning. "Don't let the divisions in this country, its political parties and politics affect you. You should come together for the benefit of Lebanon," he said.
Following these wise words, the deans of LAU's seven schools proceeded to hand each of the 641 graduates their diplomas, amid cheers, applause and resonating party horns from the audience. Family and friends held congratulatory balloons and bouquets for their new graduates.
Fireworks and music marked the end of the event but not the celebrations. "It's just the beginning of the night," one student said. And only the dawning of another stage in life.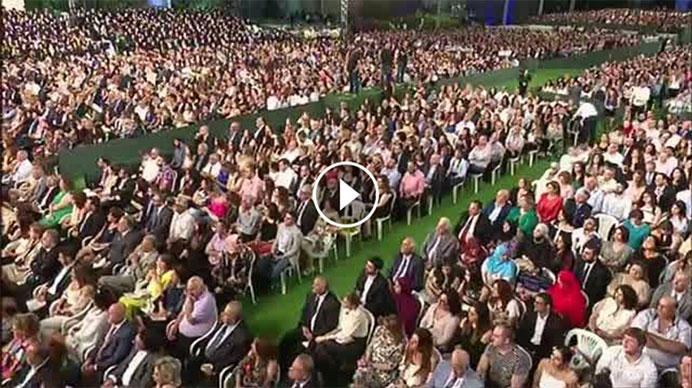 Watch the event on LAU's Facebook page.