CEP takes on CPA
LAU's Continuing Education Program launches a rigorous preparatory program to train business graduates for the Uniform Certified Public Accounting Examination.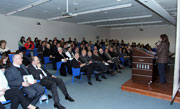 Dr. Gina Shammas, president of the Lebanese Association of Certified Public Accountants, outlined some of the key challenges facing CPAs in Lebanon.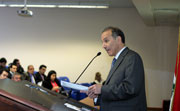 Dr. Saad Andary, second vice governor of Banque du Liban, stressed the importance of the broad appraisal and assessment provided by professional auditors.
Click on photos above for larger version.
Have no illusions: It's not easy. It's not painless; it takes hard work and sacrifice. But as those who have gone through the rigorous process of becoming a Certified Public Accountant (CPA) will tell you, the investment pays off.
And now, business graduates in Lebanon prepared to rise to the challenge may do so through a new CPA exam preparatory course offered by LAU's Continuing Education Program (CEP). The course consists of 45 three-hour evening sessions with professional trainers, who provide the proper knowledge and requisite confidence to sit for the uncompromising 14-hour, four-part exam.
"We are very proud of the team we've put together to support student preparing for the CPA exam," Faten Dabboussi, CEP Assistant Director, said. "We always have someone here to help with whatever they need — whether in class, during faculty office hours, or with our office staff."
What exactly does a CPA designation entail?
Several speakers took turns detailing the added value of earning such a title during a CEP-organized ceremony held on March 5 at LAU Beirut to launch the new program. In a nutshell, a CPA designation is a highly regarded distinction in the business world, one sought by major companies worldwide. The accounting expertise accrued through training for a successful exam opens the door to a myriad of opportunities.
"Recent globalization has increased the need for accounting professionals worldwide, because companies are looking for employees with advanced accounting knowledge and practice," said CEP Director Michel Majdalani. "The CPA designation is a mark of excellence that meets the market demand and enhances individual career growth."
Majdalani went on to explain that the CPA designation allows an individual to expand beyond accounting and auditing. It provides opportunities for top consultancy and management positions in both the private and public sectors.
Adel Aboul Joud, CPA academic coordinator, presented job ads for high-level positions at reputable companies in the Middle East asking for CPAs to apply. He said that CPAs are in higher demand now than ever before as a result of recent global financial failures.
"The role of the CPA has evolved from providing compliance to becoming a trusted financial adviser," Aboul Joud said. "After the turmoil in the financial world, we have new regulations and compliances we must abide by, and the role of the CPA has become indispensable."
Dr. Said El Fakhani, dean of the business school, told the audience that whenever asked for advice on what career to pursue, he always has the same response: accounting. He said that accountants are needed everywhere and in every industry, from banking to medicine to even religious institutions.
"A B.A. is no longer enough—you must supplement it with a certification, and the CPA is one of the best."
Dr. Gina Shammas, president of the Lebanese Association of Certified Public Accountants, outlined some of the key challenges facing CPAs in Lebanon. She said that CPAs are sorely needed in Lebanon to address problems that include a lack of uniformity in accounting practices, constantly changing tax laws, and issues of business ethics.
"I practiced for more than 12 years as a CPA in the United States, and I find it more difficult to practice in Lebanon — I can vouch for that." she said. "But that means that new people coming into the profession can only enhance it."
The keynote address was delivered by Dr. Saad Andary, the second vice governor of Banque du Liban, who explained that high academic credentials alone will only get you so far up the corporate ladder, if you don't know how to speak "the language of the market."
"While academia remains a prerequisite," he said, "today's market demands a mindset complemented by professional training."
According to Andari, the CPA certificate caters for such jobs as CEOs, CFOs, auditors, accountants, internal controllers, credit managers, regulators and examiners, Mergers and Acquisitions and financial consultants.
While the number of CPAs has increased in Lebanon, "We remain, however, a long way, in fact a very long way, from turning our corporate space into one having the stamp of certification by CPAs," Andary said  before adding,"I applaud the LAU administration for its appreciation of our modern market needs." 
For more information on the program, contact the CEP at 01 786456 Ext. 1964 or ceppq@lau.edu.lb