CEP to offer new management certificate prep course
The Continuing Education Program at LAU launches a new prep course for those pursuing the distinguished Project Management Professional credential.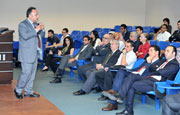 The gathering drew students and representatives from all sectors of the business world.
Click on the photo above for larger version.
LAU's Continuing Education Program (CEP) held a ceremony in Beirut on May 30 to announce the launching of an intensive 35-hour course to prepare students for the Project Management Professional (PMP) exam.
CEP is partnering with Promastar, a professional consulting and training firm specialized in management services, to offer the new course. The course will provide students with a comprehensive understanding of various aspects of management, including project frameworks, cost management, quality, procurement, human resources, communication, time and risk.
The gathering drew students and representatives from all sectors of the business world. "This course is relevant to management positions in all industries," said CEP Director Michel Majdalani.
The keynote speaker was Dr. Aziz Bassoul, CFO and director of CAT Group, a leading engineering, procurement and construction services company. He illustrated the importance of gaining professional skills in management through a firsthand story of his company's experiences working on the massive Porto Arabia project in Doha, Qatar.
The project included upscale hotels, marinas, schools, restaurants and shopping centers; the results were of optimal quality, Bassoul said, but behind schedule and over budget.
He listed a number of controllable and uncontrollable factors causing delays and budgetary oversights, but ultimately, he said, it was a result of poor planning as the company was given only a few days to accept or reject the offer to execute the project. That amount of time, he explained, is not nearly enough to properly assess the costs and time-expectancy for a project of such magnitude.
The experience was ultimately a cautionary tale, Bassoul stressed, about the need for adequate foresight about resources for follow-through on major projects.
"Never be rushed into accepting an offer," he said. "You need time to create plans and budgets. If you are unsure of the price, turn it down."
Other speakers emphasized the benefits of the PMP credential. Youssef Doughan, a PMP instructor from Promastar, demonstrated the universal applicability of PMP skills.
"Managing is something you already have inside you, something you use everyday when you go to work or school or university," he said "But what this certificate does is give you the maturity to use the skills in a practical, methodological way."
Robert Jreissati, founder and president of the Lebanese International Businessmen Association's Network (LIBAN), gave an overview of his organization, which contributes to the socioeconomic development of Lebanon and other countries with established LIBAN chapters.
"Projects exist in every industry where competitive advantage is an essential ingredient for survival," he said. "This is why we have an interest in PMP, as earning a PMP certification requires career dedication and a high level of commitment. It enhances your career as well as your general leadership skills levels."
The PMP credential is offered by the Project Management Institute (PMI), an American-based organization focused on project management.
Roger Khater, the president of Lebanon's PMI chapter who spoke at the event, said: "If you are a PMP degree holder, your skills are portable across functions, industries, and geography. Jobs will be there as needs are constantly growing — it's an entry into one of the fastest-growing professions, and you can achieve greater success with your project-management skills."