Changing of the guard ushers in new LAU advancement era
Richard Rumsey joins LAU as the new vice president for University Advancement.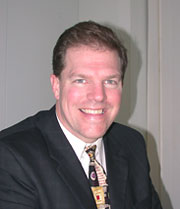 Richard A. Rumsey

LAU's organizational changes have added a new term to the university's vocabulary with the appointment of Richard A. Rumsey as vice president for Advancement, with an expanded jurisdiction and an ambitious plan to make a powerful impact locally and internationally.
"I'm excited to be taking on this challenge and see us moving to new heights to achieve our goal of excellence in the years to come," Rumsey said of his title that now groups development and fundraising, marketing and branding, alumni affairs, public relations and government relations.
It's a dynamic that has been set in place by President Joseph G. Jabbra who is eager to move the university in an upward direction and has placed advancement as a key priority for his administration.
"I'm taking my cue from Dr. Jabbra, whose own standards are very high and whose energy level is rather infectious," Rumsey explained. "We're lucky to have such an inspiring example."
Rumsey is no stranger to challenges, despite his initiation into the heretofore unfamiliar Middle Eastern terrain. He came to LAU from Columbia University's School of Dental and Oral Surgery, where he served as senior development officer and director of development.
In a highly competitive field where vying for donors' gifts requires exceptional talents, Rumsey succeeded in identifying, cultivating and securing funds from individuals, alumni, corporations and foundations in various parts of the United States.
His previous experience included running the development operations at New Jersey Medical School, the University of Akron and the United States Merchant Marine Academy.
"There's a great opportunity to not only put LAU on the map but to make it a power to be reckoned with in this part of the world and I want to be part of that move," Rumsey said.
The youthful go-getter spirit is evident in his demeanor and history as a former football and basketball player eager to win. Rumsey's Master of Education degree is in Sports Management from Springfield College in Massachusetts. He graduated with a Bachelor of Science in Business Economics and Speech Communication.