Commencement 2008: Excelling students at the forefront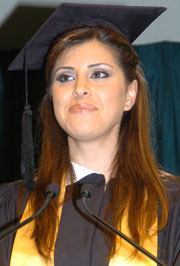 Siwar Zein delivers the Valedictorian address in Beirut.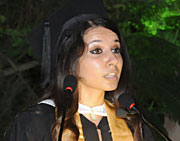 Byblos Valedictorian Nataly Youssef.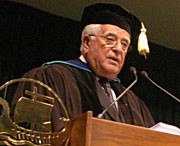 Honorary Doctorate Degree recipient Adnan Kassar gives his keynote speech in Beirut.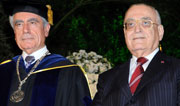 From left: LAU President Joseph Jabbra and Honorary Doctorate Degree recipient in Byblos François Bassil.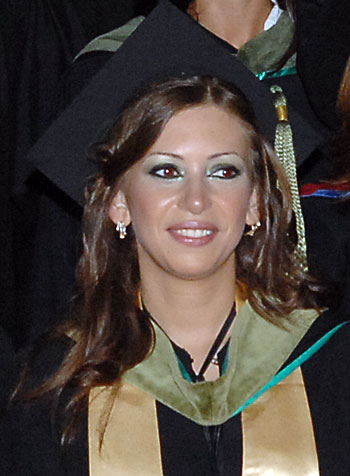 Pharmacy major Maya Saba graduated with High Distinction.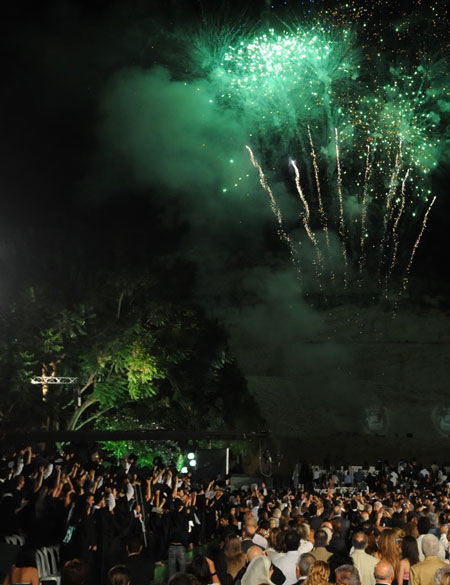 Byblos students' graduation is celebrated with a display of fireworks.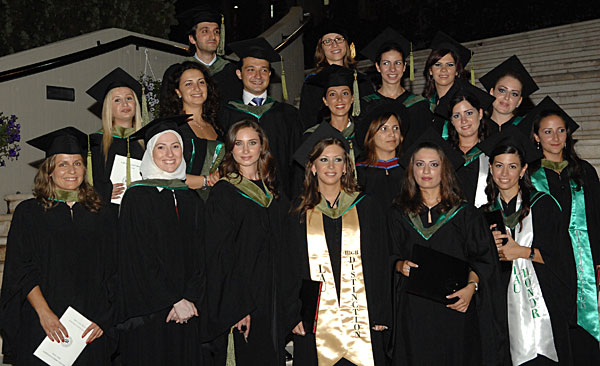 Some pharmacy graduates and professors.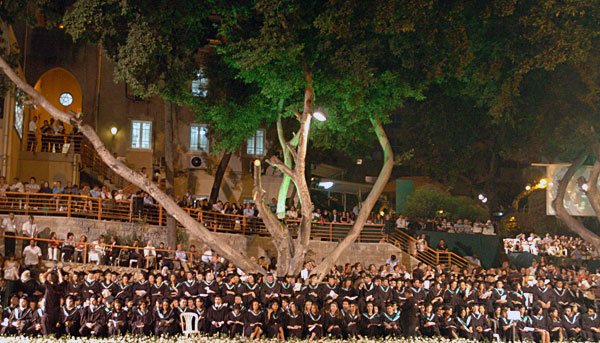 Graduates at the Beirut commencement ceremony on July 12.
Click any image to view all eight pictures.
July 30, 2008—
As 956 students marched towards their degrees in Beirut and 425 in Byblos at the commencement ceremonies in early July, LAU's mission of educating "the whole person" pervaded both campuses, and many graduates were recognized for personifying it.
Beirut Valedictorian Siwar Zein, who also received the President's Award for getting the highest cumulative GPA in the School of Business, remembered how the journey of the class of 2008 moved "in parallel to one of the most critical situations and circumstances our country has ever gone through: bombings, assassinations, and above all the war" with Israel that had began exactly two years earlier.
Optimistic about the future, Zein called upon her graduating friends to be the "right" leaders of tomorrow. "Let's hope to be the salvation. Let's be the dream, the dream of a bright white tomorrow! For the world is ours. Let's take it by storm!" she said.
A marketing student with a full merit scholarship throughout her years at LAU, Zein felt the university provided her with a daily motivation through the "personal contact with professors, and the practical expertise given along with theory."
Razan Al Salah, who received her B.A. in communication arts (journalism emphasis) with a 4.0 cumulative GPA, said, "LAU was more than just an academic institution. … [M]y experience at LAU was an inclusive and comprehensive learning experience that made me who I am rather than what I'm going to do for a living."
Al Salah, who won the Riyad Nassar Award for Academic Excellence—given only to one student per campus each year for demonstrating high academic performance and leadership—, said she had the chance to explore her passion in communication by working on one of the GC-LAUMUN teams last year. She also represented LAU in an exchange program in Washington, D.C. that comprised studying at Georgetown University and interning for the Carnegie Endowment for International Peace.
The achievements of many Byblos graduates were also signs of LAU's commitment to shaping diversified young leaders capable of excelling in multiple environments.
Maher Beaini, who was awarded a B.E. in computer engineering with High Distinction, received the Torch Award for exhibiting outstanding leadership in cooperation with others, as well as the Riyad Nassar Award for Academic Excellence in Byblos. He was the president of the Institute of Electrical and Electronics Engineers at LAU, the secretary of the economics club, and a participant in the LAUMUN program for three consecutive years. He attributed his achievements to the diversification of activities and "well-rounded student development" offered at LAU. "The experience gained from the extracurricular roles complemented the technical build-up I received through my courses," he said.
There is no doubt that such achievements come with hard work only. Nibal Chamoun, recipient of the Torch Award, admitted that the road to being awarded a B.S. in pharmacy with Distinction was truly "tough, and it required so much patience." But her efforts paid off. "We ended up graduating as health care professionals," she said.
The five years mechanical engineering graduate with High Distinction Nataly Youssef—who also received the President's Award—spent at LAU made her a mature person, as she said in her Valedictorian address in Byblos. But academic and character development happened "without taking away the little child" in her.
Along with its students, LAU has also been growing throughout the years. In his speech at the Beirut commencement, LAU President Joseph G. Jabbra talked about the various developments the university has been experiencing, and the steps that have been taken to achieve some of the strategic plans set for the coming years. "In 2009, we are going for full accreditation [by the New England Association of Schools and Colleges] and I feel very strongly that we will receive it," he said.
Then, Dr. Jabbra presented an Honorary Doctorate Degree to the President of the General Union of Chambers of Commerce, Industry and Agriculture for Arab Countries Adnan Kassar—a Lebanese businessman who was the chairman of the International Chamber of Commerce from 1999 till 2000 and minister of Economy and Trade between 2004 and 2005.
In Byblos, Jabbra granted a similar degree to Dr. François Bassil, a member of LAU's Board of International Advisors, who is the chairman and general manager of Byblos Bank S.A.L. and chairman of the Association of Banks in Lebanon.
Overall, 317 students graduated from the Beirut and Byblos Schools of Arts and Sciences, 809 from the Schools of Business, 146 from the School of Architecture and Engineering, and 103 from the School of Pharmacy.
In Beirut, the President's Award was also granted to Farah El Chaer (Arts and Sciences) and Kholoud Salman (Engineering and Architecture), while in Byblos it went to Ghinwa Slaiby (Arts and Sciences), Stephanie El Khoury (Business), and Maya Saba (Pharmacy).
The Torch Award recipients in Beirut were Juliana Sadek (Arts and Sciences), Justine Kanaan (Business), and Saleem Khoury (Engineering and Architecture). In Byblos, Raymond Abdallah (Arts and Sciences) and Nicholas-George Matta (Business) also received similar awards.