LAU, first university to launch the Student Mobile Plan
Minister of Telecommunications and CEOs of Alfa and touch make the official announcement in the presence of hundreds of students.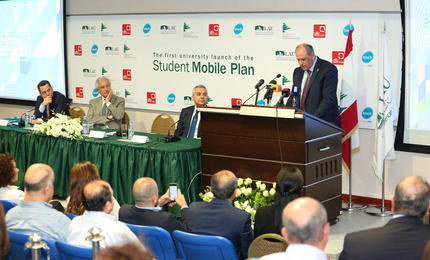 LAU President Joseph G. Jabbra welcomed alumnus and Minister of Telecommunications Jamal Jarrah to the Beirut campus last week to celebrate the first university launch of the new student mobile packages offered by Lebanon's two mobile operators, Alfa and touch.
"Our young generation is the hope of Lebanon for a brighter future. It is our responsibility, our duty, to use all our resources to strengthen their capabilities and ability to a bright future," Jabbra declared reiterating the university's commitment to furthering the collaboration with the ministry for the benefit of Lebanon's youth.
"I never thought, when I was an LAU student, that I would one day stand with you as a minister," said Jarrah, visibly moved. "You taught me to be committed to my country, to achievement, to progress," he continued before elaborating on how those principles were the driving force behind the new student packages. "Dreams are many but the path to achievement is long, so it's your responsibility to invest your knowledge, experience, innovation and capabilities in the Lebanese public and private sectors, and not abroad," he added, addressing the students at the event.
Likewise, continued Jarrah, it is the responsibility of the state to provide youth with the necessary resources and means to help them better themselves and their country. It is for this reason that he―spurred on by Prime Minister Saad Hariri's dedication to supporting development among youth―initiated, in collaboration with the operators, the development of cut-price bundles for students.
CEOs of Touch and Alfa, Emre Gurkan and Marwan Hayek respectively, were also present to underline their commitment to the minister's initiative and promote their services to their student customers. Hayek explained that the purpose behind the package was not commercial but rather to benefit the country's youth―a plan that he fully supports. "We have high hopes in the students of today, the leaders of tomorrow," he said. Likewise Gurkan expressed his gratitude and satisfaction at their cooperation with the minister. "If we didn't have this kind of vision we couldn't, as a stand-alone company, deliver it … and we're pleased to have been able to do so within only three months."
Among the hundreds who attended the event was first year Computer Science student Abdelkader Fatouh, who was delighted that he will be able to avoid wasteful and costly mobile charges. "I came today because I wanted to understand the vision behind the offer, and I'm glad to see the government collaborating with the private sector for the sake of the citizen," he said.
LAU students were the first in the country to benefit from the Student Mobile Plan, launched by the university on May 12.
"The existing design of our portal and infrastructure enabled us to meet the requirements of the telecoms operators while also maintaining student privacy," explains Assistant Vice President for Information Technology Camille Abou-Nasr. "Ultimately, however, our success lies in the dedication of our team who are always willing to go the extra mile for our community and provide a full strategic service."
Vice President of Human Resources and University Services Roy Majdalani concurs and looks forward to raising the capacity of LAU's infrastructure even further. "Minister Jarrah's ongoing leadership in the implementation of fiber optics networks to campuses has been exceptional. We are also looking forward to the adoption and implementation of his plan to reduce the Internet cost for universities," he said. "The Minister's vision and initiatives will help propel LAU's mission of academic excellence and student centeredness."