Confidence, creativity won LAU student the ticket to Dubai marketing internship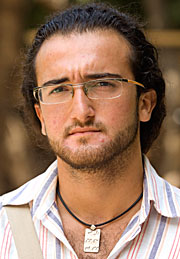 Mazen Salameh said his "goal-oriented" personality and experience from extracurricular activities helped him during the apprenticeship.
August 7, 2008—
For the second year in a row, one of LAU's brightest marketing students was selected to represent Lebanon in the 2008 Dubai Summer Surprises Apprenticeship Programme. Mazen Salameh '08 was one of nine students from various countries that were invited to offer creative ideas on how to make the next DSS a more appealing event to regional and international audiences.
The DSS apprenticeship promotes talents and enhances the education of participating students of marketing and business administration through training and exposure to the business world. The event is organized by the Dubai Shopping Festival Office.
Salameh was selected from a pool of 12 AUB and LAU students, based on the creative and bold ideas written in his essay.
During the all-expense-paid two-week trip to Dubai early July, Salameh worked closely with key DSS executives. He observed, audited and took part in countless programs such as Marketing & Media Relations, Modhesh Fun City and several mall activities.
Salameh says, "I am weird, in the positive sense of the word, in everything I do." According to Karam Hoar, the program's supervisor, "Salameh is smart and a multi-thinker. He was the most active member of the whole team, had a high level of self-confidence, and was brave and fearless."
In his winning essay, Salameh said that he would highlight the humanitarian angle of the Dubai Summer Surprises by creating new programs aimed at both adults and children. He proposed two programs: "Health Surprise" and "Drama and Cinema Surprise." The former would include orientation sessions and awareness campaigns on health issues such as fitness, obesity, stress, HIV. The latter would comprise theater lessons and film making. Salameh also recommended that the festival open with a "moving carnival in the streets of Dubai with different traditional music and dances, as well as fireworks."
The LAU graduate broke the ice among the participants from KSA, Kuwait, Bahrain, Jordan, Qatar, Egypt, Oman and the UK.
"It is nice to leave an impression, and create harmony among people coming from different cultures. Also, I changed perceptions I had regarding certain countries and their people," he said.
In the official DSS press release revealing Salameh's acceptance, the Dean of Students in Beirut, Dr. Tarek Na'was, said that "Mazen is one of our brightest students and has a great sense of confidence and enthusiasm."
The trainee believes the university and his studies mixed with his long and ongoing experience with NGOs helped in building his character. His work with Greenpeace taught him self-confidence and improved his communication skills. "I had the chance to stand on the streets and talk to different people. I learned how to approach and deal with them, as well as understand their psychology," said Salameh.
He also worked with Al Jana Film Festival in 2004 as a co-organizer, asking the directors to send their film synopses. Moreover, he was a member of the LAU UNESCO Club and took part in conflict resolution and leadership workshops.
Despite his zeal for marketing, this experience made him savor the world of media, communication and advertising. He believes that his work destination will be Dubai since it is a place "filled with opportunities" where it is "easy to prove your potentials."
Salameh is sure that his dynamism and good interpersonal relations will help him adapt to Dubai's hustle and bustle. "Wherever I went, I talked to people and opened topics. I felt comfortable dealing with them," he said. He plans for a two-year work experience in Dubai during which he will decide the graduate field he will pursue.