Crucial conversations for leading nurses
School of Nursing organizes symposium aimed to encourage dialogue between Lebanese and international nurses.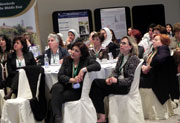 The symposium brought together Lebanese as well as international leaders in nursing.
Click on photo above for larger version.
 Under the name Crucial Conversations, the Alice Ramez Chagoury School of Nursing organized a half-day symposium targeting nurses and nursing leaders in Lebanon on April 20.
The symposium brought together Lebanese as well as international leaders in nursing: deans and faculty in schools of nursing, directors of nursing at hospitals, nurses in charge of quality improvement programs, and nurses from the community, working as consultants in health care. It provided a platform for all parties to explore the concepts of spirituality and community in nursing curricula, in addition to interprofessional education, and their application in Lebanon.
Among the speakers were Dr. Joyce Fitzpatrick, endowed professor of nursing at Case Western Reserve University's Frances Payne Bolton School of Nursing, and Dr. Marilyn Lotas, Fulbright scholar and visiting faculty at LAU.
Dr. Nancy Hoffart, dean of the Alice Ramez Chagoury School of Nursing, also spoke at the event.
The symposium, she noted, goes hand-in-hand with both LAU and the School of Nursing's mission statement to "improve the health of the people of Lebanon and the Middle East region by educating professional nurses through innovative research, scholarship and service."
Crucial Conversations aimed to facilitate the ongoing dialogue among international and Lebanese nursing leaders on various issues, and share information about innovations in nursing education both at LAU and in Lebanon.
The symposium zeroed in on three main topics: the role of spirituality in health care, the importance of community outreach in nursing education and practice, and the implementation of interprofessional education in healthcare.
According to Fitzpatrick, one's spiritual-religious background is an important factor when dealing with patients and their families, particularly for terminally ill patients. Such issue, of great value in a religiously diverse country like Lebanon, is key in determining management strategies.
"Health care providers must be aware of their own spiritual, cultural and religious beliefs, and consider their impact during interactions with patients with different backgrounds," maintains Fitzpatrick.
Lotas, on the other hand, tackled a topic that is often overlooked in nursing curricula: community health education.
The numbers speak for themselves. 90% of nursing curricula is currently acute care focused, with community health courses being introduced in the very last semester.
According to the U.S. Institute of Medicine, however, the healthcare system must undergo a fundamental shift to deliver more care in the community, rather than focus solely on providing specialty care in an acute setting.
The need to transform nursing education is thus essential to enable nursing to make this shift, says Lotas.
"In order to accomplish this, we need more education in the community, as well as increased focus on the development of cultural competence," she explains.
But nurses, no matter how integral to the provision of healthcare, can't do everything by themselves, maintained Hoffart - hence the importance of interprofessional education and collaborative practice.
Interprofessional education occurs when two or more professions learn about, from and with each other in order to enable effective collaboration between various disciplines, and improve the physical, mental, and social wellbeing of patients.
"Healthcare should always be about teamwork, regardless of the patient's medical condition. But we haven't always been good at teamwork," says Hoffart.
If implemented properly, adds Hoffart, interprofessional education can go beyond its initial goal of treating patients, by also helping to promote disease prevention.
Crucial Conversations was the first conference held by the young School of Nursing.