Cyber-security gains momentum at LAU-organized event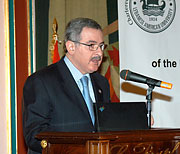 H.E. Jean Oghassabian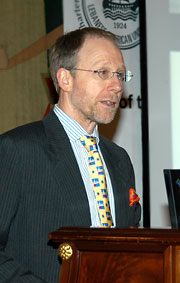 Mr. Stephen Mason
April 25, 2006—
Lebanon is soon expected to ratify a draft law regulating electronic fraud and the use of digital signatures, Culture Minister Tarek Mitri said during the opening of a recent conference organized by LAU's Continuing Education Program in Beirut.
Digital signatures are used to verify the identity of the sender or author of a document and to avoid intrusions. The technology has allowed thousands of businesses worldwide to switch confidently from paper-based processes to electronic workflows.
The first draft law regulating cyber-security in Lebanon was formulated six years ago. Several other drafts have been presented to Parliament since then, but none have come to fruition.
"Such a project goes along with our government's commitment to fighting corruption and boosting modernity," Mitri said, but added that it requires assistance from international specialists.
Administrative Reform Minister Jean Oghassabian said secure communications would be necessary to improve the flow of information between the public administration and citizens.
"[Citizens] would not trust any effective electronic government services in the absence of laws regulating digital signatures," Oghassabian said.
Attorney Stephen Mason, an expert in electronic communications security, shed light on the history, purpose, forms and applications of digital signatures. Mason also discussed his views on building a legal framework, looking at existing E.U. and U.S. legislation.
Mason covered electronic fraud and identity theft, suggesting ways to prevent them. He is a leading authority in the ways electronic communications can make or break an organization. He promotes the establishment of e-mail and Internet use policies, interception and monitoring of internal communications, and, data protection.
LAU President Joseph Jabbra underlined the benefits of such technologies to society, stressing the university's commitment to contribute towards raising the level of expertise in emerging technologies.
The president of the Information Systems Audit and Control Association in Lebanon (ISACA), Ramzi Tarabishi, briefed the audience on the association's efforts to provide knowledge on management, monitoring, security and professional auditing.
The conference, organized in cooperation with ISACA Lebanon, was held under the patronage of Lebanon's Premier Fouad Seniora at the Bristol Hotel in Beirut March 30, 2006 and it included representatives from Lebanese banks as well as professionals from LAU and other institutions.