Design students reach for the moon
Boldness, wit and innovation displayed at LAU's Annual Graphic Design Senior Student Exhibition.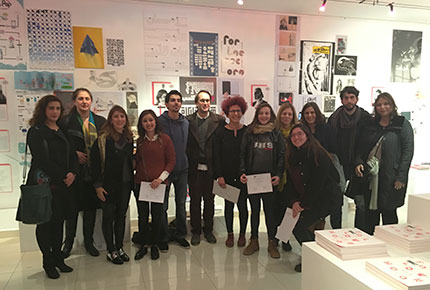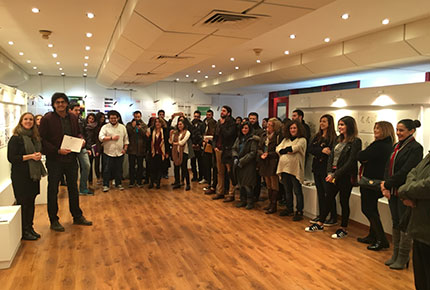 "Follow Me to the Moon" is the visionary title of this year's catalog design concept. Inspired by the science fiction movie Interstellar, the quote reflects the ability of LAU's design students to strive for excellence, break boundaries and reach new goals.
The annual catalogue features the work of 47 graphic design students, among whom Fatima Al Hamawi, Noura Nassar, Mohammad Houhou and Tiffany Moujaes received this year's best achievement award.
"The inspiration for my project comes from the realization that most people in Lebanon do not know enough about the Lebanese civil war, yet they still fight about it," says Noura Nassar, who ideated a platform that seeks to help unite her society.
Curated by designers and illustrators, the platform allows the general public to post their memories of the war and pin them to a specific geographical area. A postcard with a barcode is then placed in each of these areas, so that passers-by can scan it and learn about another person's story – be it from their own or the opposite side of the conflict.
"People will be able to relate to that personal memory," says Nassar. "In the end, it is empathy what will bring us together."
A very successful project was that of Tiffany Moujaes, whose hand-drawn educational interactive projection aims to change the way children between the ages of 12 and 15 approach art.
"The most gratifying part of my project was not receiving the award, but seeing that it really works on children," says Moujaes, who based its performance on scientific research investigating what stimulates children's creativity. The project was tried out in the school she used to attend where the children achieved such impressive results that the institution invited her to hold a course.
The students' works were displayed last week at the annual senior student exhibition during which the awards were distributed to the four winners. Certificates were also handed out to those who participated in the "Adopt a Creative" project, which every year offers three students the opportunity of being coached by creative directors at Leo Burnett.
"We want to nurture the culture of design and contribute to the creation of a community of design thinkers," said Chair of the Department of Design Yasmine Taan, who spares no effort in finding new possibilities of bridging the gap between students and professionals. "We also want to make the general public understand that design can provide a service to society and improve our quality of life."
Odile Riachi, creative director at Leo Burnett, opened the exhibition by stressing the benefits such initiatives bring to the professional world as well. "It is enriching for us to keep in touch with new creative talents," she said. "A new dialogue is happening and we plan to keep it going."
Photos by Photography Instructor Bassam Lahoud.