Distinguished Arab writers to gather at LAU for literary festival
A diverse group of 39 writers from across the Middle East will be hosted at LAU starting tomorrow for a series of discussions as part of the Beirut39 Festival.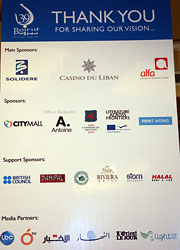 A poster showing the Beirut39 literary festival sponsors, among which LAU.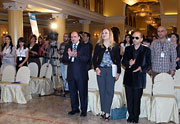 Beirut39 partners, sponsors and media during the launching press conference on April 7 at the Riviera Hotel. Dr. Tarek Na'was (1st row, 3rd from right), Dean of Students at LAU Beirut, who is representing the university as a partner of the initiative, attended the event.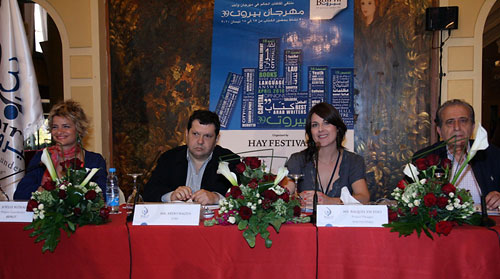 Organizers of the Beirut39 Festival held a press conference on April 7 at the Riviera Hotel to launch the event. From left: Joelle Rizkallah, Beirut39 project coordinator; Abdo Wazen, a judge on the Beirut39 selection committee; Raquel Vicado, Beirut39 project manager; and Ghassan Abu Shakra, a representative from the Ministry of Culture.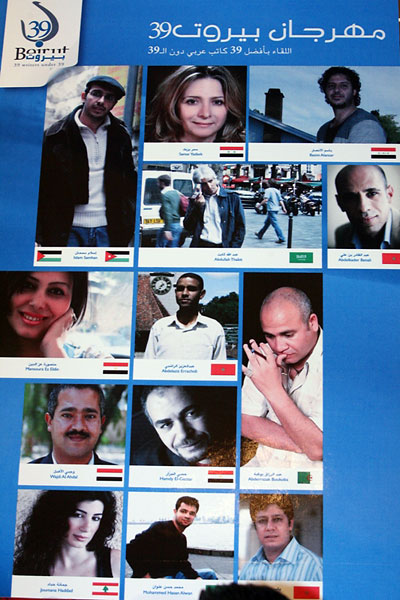 A poster displays information about some of the 39 writers selected to participate in the festival.
Click on any photo above to view all four images.
Thirty-nine distinguished writers from across 14 Arab countries are gearing up for a four-day celebration of literature in Beirut, dubbed Beirut39 Festival, April 15-18 through a series of discussions at venues across the city, including LAU.
Being held as part of the Beirut World Book Capital 2009 activities, the series of events is organized by the Hay Festival of Literature and the Arts — a global institution that holds annual festivals and projects in cities across the globe since 1988 — in cooperation with the Lebanese Ministry of Culture and Casino du Liban. Over 15 companies and organizations are sponsoring the event, which was launched in Beirut in May 2009, with LAU being the only university among them.
"The mere selection of LAU as one of the venues for the writers to come and speak means a lot for us as a cultural center, and it means a lot for the writers who would like to talk to students and faculty, since these are prospective authors as well," says Dr. Tarek Na'was, Dean of Students at LAU Beirut, who is representing the university as a partner of the initiative.
The writers, who include novelists and poets alike, are all under the age of 39. They were chosen among nearly 450 applicants by a panel of well-respected Arab literary authorities.
Throughout the four days, the writers will hop across schools, universities, cafes, and art centers throughout Beirut to discuss several topics including the state of contemporary Arabic literature, the challenges of translating works, and the role of culture in society. Some authors will also read from their works.
Five discussions will be hosted at LAU's Beirut campus, in the Business School Auditorium (Room 903).
"We would like to keep LAU open as a cultural center not only for educating students, but also as a link with the local community and larger community in the Arab world," Na'was says, describing the cultural importance of LAU's involvement in the Beirut39 Festival.
On April 15 at noon, writers Islam Samhan, Faiza Guene, Rosa Yassin Hassan, and Ahmad Saadawi will discuss what they write about, and how they write it. The same topic will be examined at 4:00 p.m. with writers Abdelaziz Errachidi, Hussein Al Abri, Yahya Amqassim, and Wajdi Al Ajdal. Both discussions will be in Arabic.
On the following day at noon, writers Bassim Al Ansar, Randa Jarrar, and Abdelkader Benali will gather for an English discussion on writing and living outside the Arab world, followed by a discussion at 4:00 p.m. in Arabic with Hala Kawtharani, Dima Wannous, Abdullah Thabit, and Najwan Darwish on the journey from poetry to fiction.
On April 17, 39 separate Arab authors aged 19 and younger, who were chosen by a Beirut39-inspired project called "Beirut19," will gather in the auditorium for a conversation with two Beirut39 writers, Hamdy El Gazzar and Yahya Amqassim. Na'was says the meeting will allow the more experienced writers offer tips and advice to the aspiring young writers.
The Beirut19 project was launched by the International Education Association in collaboration with Hay Festival to engage Arab youth to take a critical look at contemporary social and political issues such as power, identity, globalization and culture.
All events are free of charge. The complete program of the festival can be found on this website.