LAU's Doctor of Pharmacy program earns ACPE re-accreditation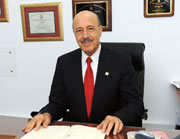 The re-accreditation process of the Pharm.D. program by the U.S. Accreditation Council for Pharmacy Education "wasn't easy as we had to work really hard to achieve this, but in the end we did a marvelous job," says Dr. Farid Sadik, Dean of LAU's School of Pharmacy.

Pharm.D. and B.S. in Pharmacy graduates and audience members during the Pharm.D. Hooding Ceremony on July 14, 2009.

School of Pharmacy faculty on podium during the Pharm.D. Hooding Ceremony in July 2009.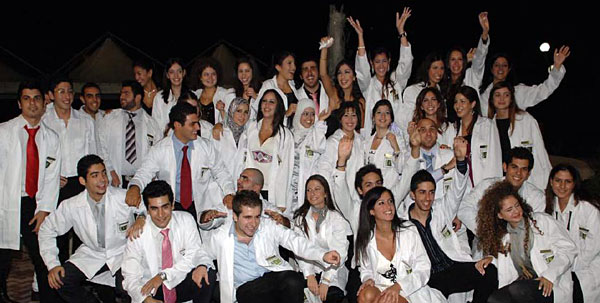 Photo taken after the White Coat Ceremony on October 23, 2009.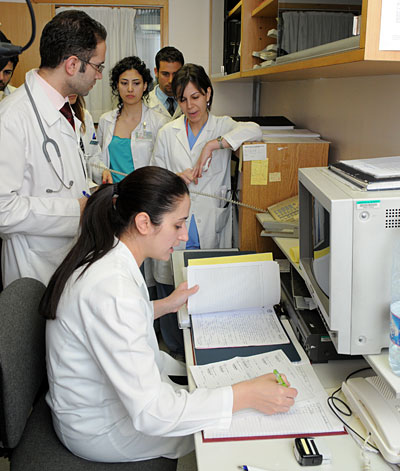 Pharmacy students doing research in a lab.
Click on any photo above to view all five images.
March 16, 2010—
LAU's School of Pharmacy is celebrating its latest success after its renowned Doctor of Pharmacy (Pharm.D.) program achieved re-accreditation in January 2010, from the U.S. Accreditation Council for Pharmacy Education (ACPE), based on the success of a rigorous two-year self-study conducted by the school through which it achieved ACPE's requirements.
Accreditation is a tool for ACPE to control pharmacy education in the United States, by making it uniform with contemporary methods of teaching and ensuring that changes are in line with new practices of pharmacy education, namely patient care.
LAU boasts the only ACPE-accredited Pharm.D. program outside of the United States.
The ACPE re-accreditation process occurs once every six years. The Dean of the School of Pharmacy, Dr. Farid Sadik, explains it takes the School two years to prepare the self-study that must be submitted to the ACPE accreditation evaluating team for review three months prior to the team's visit. He says: "When they conduct their visit, they compare their observations with what they have read in the self-study in order to verify the accuracy of the information. There are a number of sections that they explore, such as School mission, faculty, students, curriculum, assessment and facilities, including practice sites."
"ACPE gives their detailed expectations and universities need to compare and match to that."
The self-study, to prepare for the most recent visit by the ACPE accreditation team in the fall of 2009, began in 2008. The School organized committees for every section the ACPE team would be examining and the chair of the Steering Committee, "Dr. Yolande Saab, who is now the Associate Dean of Academic Affairs, did a tremendous job with the support of faculty, central administration, students and staff," says Dr. Sadik, who observed all work done very closely throughout the process.
At the end of its visit, the ACPE team conducted an exit meeting with the School's Dean, as well as with the university's President and Provost. Then, within two to three months, they submit their report to the ACPE Board of Directors — which meets twice a year in January and June — for review.
"It was excellent from the beginning, explains Dr. Sadik. "This year, they [the ACPE Board] met in January and afterwards we received the decision for our re-accreditation. It wasn't easy as we had to work really hard to achieve this, but in the end we did a marvelous job. ACPE has been impressed by LAU's investment in the [Pharm.D.] program."
Upon receiving the news of the re-accreditation decision, LAU President Dr. Joseph G. Jabbra sent a message on behalf of the LAU community, congratulating the Dean, faculty, staff and students of the School of Pharmacy. President Jabbra added, "For continued accreditation of the Doctor of Pharmacy program, a comprehensive on-site visit must occur in 2016 prior to the June ACPE Board of Directors meeting. A focused visit will take place during the 2011–2012 academic year."