Echoing voices of trafficked women
The Institute for Women's Studies in the Arab World (IWSAW) hosts a performance lecture which sheds light on violence against women through real life situations.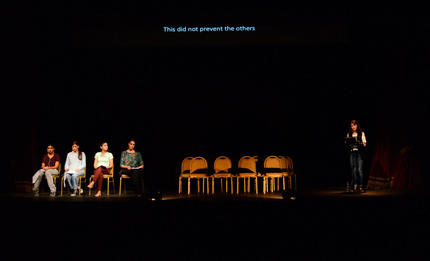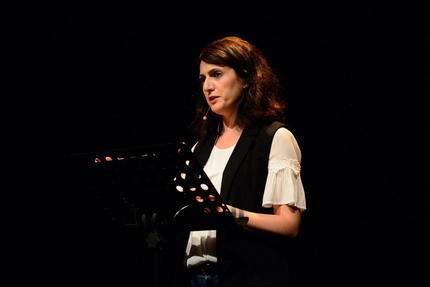 IWSAW topped off its long list of spring semester events with a presentation of a performance entitled No Demand, No Supply, which highlights the deplorable conditions endured by 75 girls and women―mostly Syrian nationals―who were trafficked and forced into sexual slavery at two clubs located on the outskirts of Beirut.
The "Chez Maurice" scandal is the largest human trafficking network in Lebanon headed and run by Lebanese businessman, Maurice Jaajaa, owner of the Chez Maurice and Silver nightclubs that were raided by the police in spring 2016.
No Demand, No Supply narrates the real horror stories of the women who were held captive for nine months, confined and locked in rooms with painted black windows, and subjected to atrocious psychological and physical torture.
"It's important that we support all initiatives that aim to combat violence against women and promote gender equality," said Deputy Director of IWSAW Myriam Sfeir in her introduction to the performance at LAU's Irwin Hall. "This is a valuable and significant initiative, and we were very keen to give our students and community the opportunity to attend."
The performance was conceived and directed by actor and director Sahar Assaf. On hearing the news of the raid, she was mortified: "I had to do something, so I applied for funding from the Centre for Arts and Humanities Mellon Grant to present a performance at its annual conference that was held at my university," says Assaf, who is also an assistant professor of theater at the American University of Beirut.
The production is built on the indictment, as well as interviews conducted by Assaf with women survivors in addition to interviews with investigative journalist Sandy Issa, the colonel who raided the brothel, and Ghada Jabbour, head of Trafficking and Prostitution unit at KAFA, an NGO dedicated to combatting gender-based violence and a long-time partner of IWSAW.
"Documentary theater is a form of journalism," says Assaf speaking about her production. Plain and uncluttered, the stage is set with a podium, where Assaf stands to narrate the events known across the country simply as "Chez Maurice."
Four chairs are laid out next to one another. Four actors take their seats and begin to speak out the words they are hearing through their headsets. The anger, frustration, despair, and disgust of the original narrators are evident as the actors share the stories and experiences with the audience. Assaf explains that she chose this method to ensure that the words and the emotions of the women were presented verbatim, affirming that "it brings the material from source to receiver as authentically as possible."
The performance, she says, will continue to evolve. "I had not interviewed any of the women myself when we first staged it. I have done so since, and that, as well as the reaction of different parties and further research and experimentation, led to this production."
The narratives are interrupted occasionally by Assaf's presentation of facts and figures, taken from a 2014 study by KAFA into the demand for prostitution in Lebanon, which had last year been relayed by its author, Ghada Jabbour, during Food 4 Thought, IWSAW's monthly discussion series for students on gender issues. "I couldn't understand why in all the media reports about "Chez Maurice," there was no mention of the buyers, so I wanted to highlight that," explains Assaf.
The buyers are presented in the same effective manner as the trafficked women, through direct quotes noted by Jabbour in her report. "I didn't have access to the recordings of her interviews, but the phrases you hear recited by actors are also taken verbatim from Jabbour's report," explains Assaf.
No male actors are seen on stage. Instead, chairs are brought out one by one while the men's testimonies are heard resonating from the theater loudspeakers. As the number of chairs and rows of chairs increases, the demand for prostitution and complicity of the buyers in the trafficking of women becomes plainly evident.
"We will not stop supporting this initiative," insists Sfeir. "Too many stories are forgotten once they are out of the headlines, but this must live on. People don't believe it until they see it, and so we will help take this production to as many places as possible."
No Demand, No Supply will be performed at Masrah al Madina Theatre on Tuesday, 4 July ahead of the 7 July court hearing related to the "Chez Maurice" atrocities.