Elise Salem: New VP aims to expand LAU's reach, lead by example
Dr. Elise Salem took on her new position as vice president for Student Development and Enrollment Management at LAU in early July.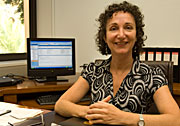 Elise Salem said she would like LAU and its students to be "models for positive change" in the region.
Dr. Elise Salem took on her new position as vice president for Student Development and Enrollment Management at LAU in early July.
Salem comes in with extensive experience as a professor and senior administrator at Fairleigh Dickinson University in New Jersey. She has also held teaching positions at various other universities.
Born in Beirut to a Lebanese father and an American mother, Salem completed her master's degree at AUB before traveling to the United States in the 1980s to earn a Ph.D. in Literature from the University of North Carolina at Chapel Hill.
She recently took the time to share her outlook and plans in an interview.
What are LAU's major assets in your opinion? What are the main challenges LAU faces?
LAU has the legacy of providing high-caliber education. In its mission, but also in its practice, it is also focused on the education of the whole student, so that a student is not just getting a degree but is gaining knowledge and experience to be a leader in the country and a functioning member of society upon graduation. That commitment to the student is very serious.
One of the big challenges—which I don't think is specific to LAU—is how to educate our students so that they can help transform this troubled country, which is still very much in the process of formation.
There is also the challenge of how to better connect the Beirut and Byblos campuses to their communities so that they are not isolated but are part of the process of change for the better.
Another challenge is how to better extend the reach of this university to the more remote and poor constituencies of this country, to reach out to those public schools in regions where there are obviously incredibly intelligent and hard-working kids, who have not been given sufficient opportunities.
How do you see LAU in the context of other universities in Lebanon and the region? How is it perceived in the region in your opinion? What is your vision to improve LAU?
LAU is definitely a university on the rise. It is favorably being compared to AUB, USJ, Balamand, and other universities that are serious institutions.
The many new universities rising in the Gulf are very interesting, but they are serving a different group, and our Lebanese students are not going there. Lebanon has a huge role to continue to play in serving the region in terms of education.
LAU is one of the institutions that has gone further than any of the traditional ones in strengthening its academic and financial profile, and I'm very confident about that.
Over one-third of our students have some form of financial aid and a large percentage of our students are middle to low-income students. So, although LAU previously had the reputation of being a school for the rich, that idea is no longer warranted.
One of the things that I will be working with the academic units to ensure is that this is a university with high academic standards, but that is catering also to the disenfranchised, and to those groups that would need our support once they are in. We are ready to provide counseling, career services, co-curricular activities and other kinds of support, because once the student is enrolled, he or she becomes a member of our family.
The other part of my vision is that I want to lead by example. I am a hard worker. I have very high standards for myself. I would like to be able to instill in my staff and our students that sense of ownership and responsibility.
What elements from your past experience do you think will be the most useful to you as VPSDEM at LAU?
I am a mother and my three kids happen to be in college.
I have also been a teacher for a very long time, and that informs who I am as a thinker, as a writer, as someone committed to high scholarly standards. Even though in this current job I am not professing literature, I would expect meticulousness, thoroughness and eloquence from everyone who works with me, as well as myself.
The second dimension of being a professor is that I know absolutely what a university is. I have seen some universities that have senior administrators who sometimes forget that it is all about the education of students.
Also, right before coming here, I was a senior administrator, an associate provost, and that position gave me the experience of managing staff and budgets, and working in a leadership capacity at a university to bring about change.
How can we improve student life at LAU?
Student life must be varied, dynamic, and the students need to have ownership of projects. If a student or student group wants to have an activity, we will support it financially and logistically, but I want to give the student responsibility, the surest way to secure commitment.
What would you like to communicate to our current and prospective students?
I'm looking forward to meeting you, learning from you, and working with you. I'm excited to be here.