Empowering women to take policymaking into their own hands
"Although women have made large strides professionally over the last century, politics remains a man's world. Significant barriers stand in the way of more women assuming positions of political leadership — not least women's own attitudes. If serious efforts are not made to break these barriers, the world will miss out on the benefits that women can bring to policymaking."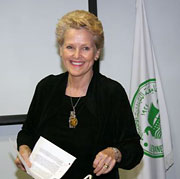 Hurt's shiny face radiates optimism and enthusiasm.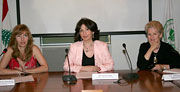 From left: IWSAW Director Dima Dabbous-Sensenig, Vice President and Founding Member of the Lebanese League for Women in Business Hanan Saab, and Swanee Hunt.



Hunt encourages women to knock down the barriers that block their way into politics.

Click any image to view all three pictures.
"Although women have made large strides professionally over the last century, politics remains a man's world. Significant barriers stand in the way of more women assuming positions of political leadership—not least women's own attitudes. If serious efforts are not made to break these barriers, the world will miss out on the benefits that women can bring to policymaking."
This paragraph, printed in the May/June 2007 issue of Foreign Affairs, was the abstract of an article entitled "Let Women Rule." But it could as well summarize the ideas its author, Swanee Hunt, shared with the audience at a lecture in Irwin Hall, Beirut Campus, five days ago.
Hunt, director of the Women and Public Policy Program at Harvard University's Kennedy School of Government and former U.S. ambassador to Austria from 1993 to 1997, highlighted the constructive role women can play in political negotiations leading to conflict resolution.
She also said that women in Lebanon, the Arab region and the world have the responsibility and capability of creating change in the fabrics of governmental systems to combat corruption and bribery.
They can also act as champions of the rights and needs of marginalized social groups, and advance economic welfare due to renewed public trust in the government.
But if the benefits of having more women in the upper echelons of political life are so many, why is there no gender balance in policymaking positions? Hunt's response repeated an idea from her Foreign Affairs article: "A fundamental reason is that women themselves are not eager or willing to stand for political office. Women view politics as a dirty game, and their loftier standards may keep them away from the grit and grind of it."
Stereotypes, political party gatekeepers, lack of resources, and the roles societies expect women to conform to are, according to Hunt, some of the obstacles preventing women from running for high-level policymaking offices. She said that because of such barriers women often prefer to work in and climb the organizational ladders of NGOs.
Hunt concluded that to change the status quo, women should struggle against these obstacles and force their way into the political system because it certainly would not open its doors to them. She also described some practical solutions—such as "family-friendly policies," training in NGOs, transparent and equitable campaign finance rules, and quotas at various government levels—that can enhance and accelerate that process.
Because of her "extensive experience in empowering women and helping them contribute actively to peace and justice worldwide," Hunt was the right person to relay the message, said Dr. Dima Dabbous-Sensenig, director of LAU's Institute for Women's Studies in the Arab World, that cooperated with the Lebanese League for Women in Business to organize the event.
Hunt teaches Inclusive Security at Harvard, exploring the reasons behind women's exclusion from peace processes and the steps required to solve that problem. She is the president of Hunt Alternatives Fund, which supports women's leadership roles in conflict-ridden regions, among other things. In 1997, she spearheaded "Vital Voices: Women in Democracy," a conference that gathered 320 women leaders from 39 countries, leading to a series of related initiatives. A year ago, she was inducted into America's National Women's Hall of Fame.
With roots going back to the American School or Girls, and subsequently the American Junior College for Women and the Beirut College for Women, LAU has played an important role in educating females. In 1973, IWSAW—the first of its kind in the Arab region—was established to promote women's rights and issues.