Encouraging architecture students to think green
Architect Claudine Abdelmassih talked about the importance of sustainable construction.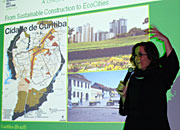 Claudine Abdelmassih gave examples of cities built sustainably, such as the Cidade de Curitiba in Brazil.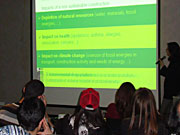 Attendees learn about the impacts of non-sustainable construction on the environment.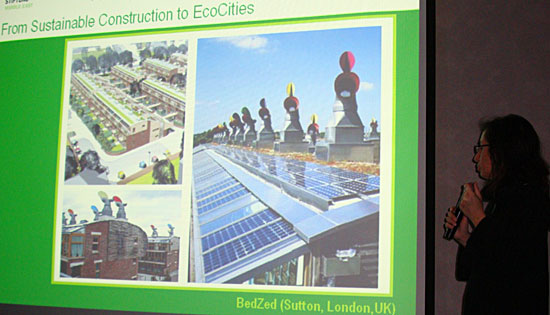 Abdelmassih shows pictures of BedZED, an eco-village in the UK with socially and environmentally sustainable homes and workspaces.
Click on any photo above to view all three images
It is architects' moral responsibility to create environmentally friendly buildings, the third "skin" human beings have besides their actual skin and clothing, according to Claudine Abdelmassih, who lectured on the Beirut campus, March 17.  

The guest architect talked about sustainable construction and the various methods that can be used to create eco-friendly buildings.

Architects play a big role in society because they are "not only designers of beautiful things" but also "responsible for the environment" future generations will inherit, Abdelmassih said.

She urged LAU architecture students to encourage their future clients to build sustainably.

Abdelmassih said it's possible to reduce the negative impact of construction on the environment by taking measures throughout the life cycle of buildings, from design and construction to maintenance, refurbishment, and demolition.

A building's overall design, location, and orientation can help utilize natural light and ventilation, she said.

She recommended using recycled materials. When building or renovating, "you can reuse materials or you can sell them to be reused in another building," she said.

Some green technologies could also be used indoors to reduce energy and water consumption, she added.

"LAU has applied several energy-saving approaches and systems in its newly constructed buildings," such as the Business School and Library Building on the Beirut campus and Dorms Block B in Byblos, as well as its new projects and renovations, said Director of Campus Operations and Maintenance Emile Hanna.

According to Hanna, some of the eco-friendly systems LAU has been installing to reduce electricity consumption include energy-saving lamps and occupancy sensors to control lighting and temperature in classrooms and other areas.

Hanna said that the university has also been using valves to control water flow and reduce pump speed, infrared faucets to cut down hot water consumption, and a building management system to optimize the operation of the chilled water and boiler plants.

Green building is necessary, Abdelmassih said, because 40 percent of natural resources consumed in the world are used in construction and maintenance, and 40 percent of waste and carbon dioxide emissions come from the building sector.

If actions are not taken to improve these statistics, people's lives may be seriously affected due to depletion of materials, environmental degradation, climate change, and health problems, Abdelmassih added.

She warned that sustainable building might sometimes be expensive in the short run, but it would often pay off in the long term. For example, creating buildings with double walls—a newly adopted climate control method in Lebanon—will decrease heating and cooling costs.

Lebanon has only recently begun introducing standards for design, the most time- and energy-consuming phase of construction. But these standards are not fully enforced, Abdelmassih said.

Hanna said that "LAU is currently preparing a design guidelines document that will define the university's approach toward LEED, Leadership in Energy and Environmental Design," a set of standards developed by the U.S. Green Building Council, for environmentally sustainable construction. The document is to be completed by summer 2009.

The lecture at LAU was part of a campaign organized by MAJAL, the Academic Observatory for Construction and Reconstruction, to raise awareness on specific sustainable construction techniques among aspiring architects at seven leading Lebanese universities.