Engineering students take over LAU Byblos with hands-on projects
Industrial and mechanical engineering students display course projects during the fourth annual Design and Manufacturing Day.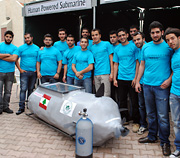 The 14-member student team behind the human-powered submarine, displayed at the fourth annual Design and Manufacturing Day at LAU Byblos.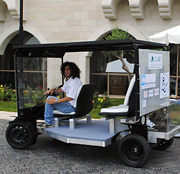 An engineering student drives LAU's solar-powered car around the courtyard of the Frem Civic Center.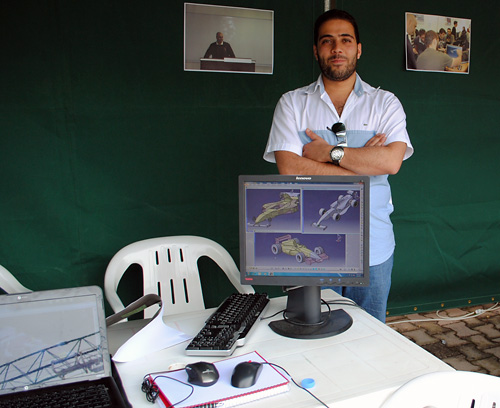 Serge Khaleel, a fifth-year mechanical engineering student, displays the Formula 1 car he designed using CAD/CAM.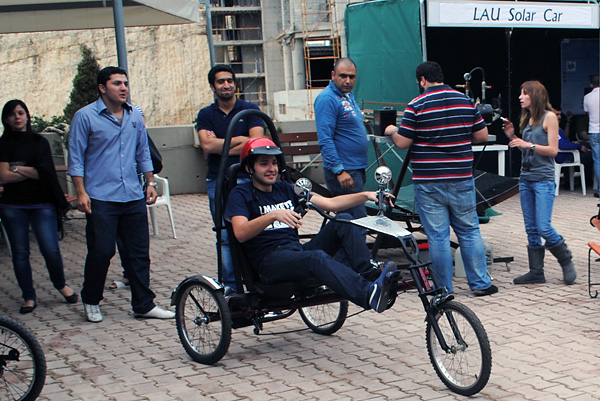 An engineering student takes his hand-built tricycle for a spin.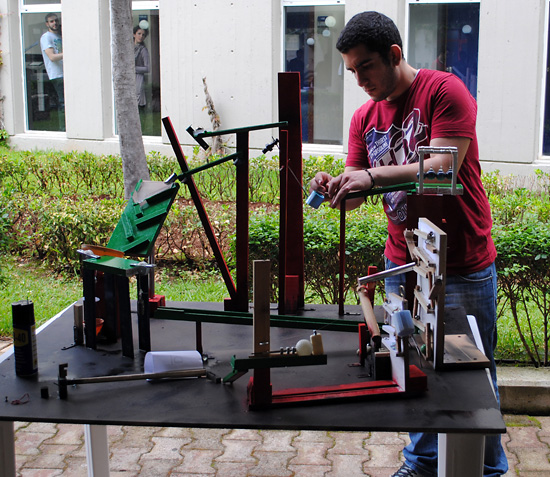 An engineering student demonstrates his Rube Goldberg machine.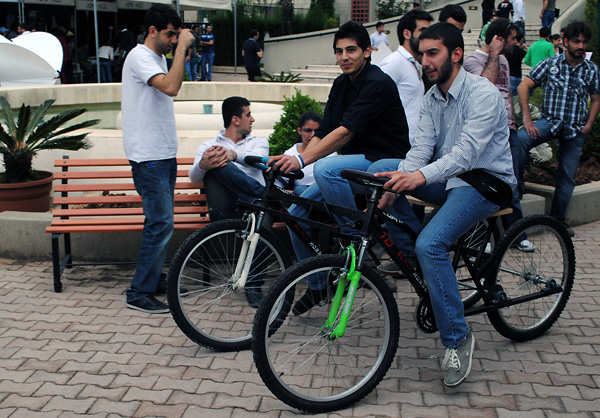 Engineering students ride their tandem bicycles around the Byblos-campus fountain area.
Click on any photo above to view all six images.
The fountain area at LAU's Byblos campus turned into a science expo during the fourth annual Design and Manufacturing Day on May 4.
Sponsored by the Industrial and Mechanical Engineering Department in LAU's School of Engineering, DMD 2011 featured student-designed projects ranging from a human-powered submarine to small remote-controlled robots.
Around 250 engineering students from all classes gathered under 29 tents to display their group projects, employing skills used in their courses, including instrumentation, kinematics, ergonomics, dynamics, CAD/CAM (computer-aided design and computer-aided manufacturing), and finite elements.
Some students could be seen testing their Rube Goldberg machines (devices that perform a simple task in a complex fashion, named after the American inventor). Others were riding hand-built tandem bicycles, while yet others demonstrated computer-aided designs.
Dr. Ramy Harik, assistant professor in the IME Department who started DMD in 2007, says that he and his colleagues were very satisfied with this year's event. "What's most exciting is that it's growing on a yearly basis, not just in terms of the number of students participating, but also the quality of the projects being delivered," he explains.
"We're seeing more and more projects that answer real engineering questions, that are functional — which is very important in our field," Harik adds.
The projects represented varying percentages of a class grade and tested the students' teamwork skills.
"These kinds of projects allow students to apply their knowledge and help bridge the gap between the university level and industry," says Dr. Jimmy Issa, assistant professor in the IME Department and this year's head organizer.
"DMD also helps to promote the mechanical and industrial engineering programs, to engage the general student population in what we do," Issa adds.
One of the most eye-catching displays was a human-powered submarine, which took the 14-member team six weeks to assemble. It was made of fiberglass on the outside and metallic material on the inside. The group has already taken the submarine on its first trial run, with success.
One of the team members, third-year Byblos engineering student Naji Bayeh, climbed inside the chamber to show how it works.
"As the submarine submerges under water, it lets water in with the diver and there is a pedaling mechanism that propels it forward and fins that move it up and down. You open the valves when you want to surface," he explained.
Fifth-year mechanical engineering student Serge Khaleel designed a Formula 1 car using CAD/CAM.
"I designed the body, aerodynamics, and finite elements of the car," he said, while standing next to the computer-generated project worth 40 percent of his final grade.
"I received positive feedback from Nadim Mehanna, a renowned Lebanese Formula 1 expert, who gave me advice on how to tweak my design and put it on track," Khaleel said.
Second- and third-year students worked every day for two months putting kinematics productions and processes to use on LAU's solar-powered car, now in its third design phase (the first model was built in 2009).
Using photovoltaics, or solar energy, the car can run for eight hours and reach a maximum speed of 42 kilometers per hour. Solar panels lining the roof of the car produce 14.5 kilowatts of power.
Issa says that this kind of experiential learning is essential in engineering, where 30-40 percent of one's job can be dedicated to building a prototype and testing to make sure it works.
Three of the displayed projects — the submarine, solar-powered car, and H2Go (a scaled, proof-of-concept prototype for rain-energy conversion) — also competed in the Student Professional Development Conference of the American Society of Mechanical Engineers, held at the American University of Beirut, April 29-30. Lebanon was the ASME District J host for 2011 and H2Go was the chosen project topic of the competition.