Exercises in diplomacy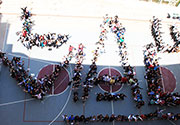 250 high schoolers gathered at the Beirut campus to receive training by some 23 LAU MAL trainers.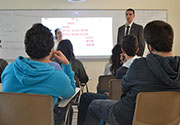 Trainers explained the mission and work of the Arab League, the council structures and parliamentary procedures.
Click on any photo for larger version.
April 24, 2013—
LAU's second annual Model Arab League (MAL) program has kicked off, giving students an exciting opportunity to simulate Arab political, economic, cultural and social life at a time of extraordinary change in the region.
Model Arab League mimics the activities of the Arab League, with LAU student leaders receiving training in research, negotiation, public speaking and resolution writing. The students in turn train high school students. Representing one of the League's 22 member states, delegates work together over seven sessions to build consensus on pressing diplomatic issues. The training culminates in a two-day conference simulating the various sessions and committees of the regional organization. The program is complementary to LAU's Model United Nations, which similarly develops youth leadership through coaching students in project management, team building, non-violent communication, diplomacy and conflict transformation.
At the first session on March 23, 250 high schoolers from across Lebanon gathered at the Beirut campus to receive training by some 23 MAL trainers who explained the mission and work of the Arab League, council structures and parliamentary procedures.
MAL is much more than simply an extra-curricular activity, said Elie Samia, executive director of LAU's Outreach and Civic Engagement (OCE) unit which oversees the program. "Some people watch history in the making. Our student leaders prefer to contribute to it directly through constructive dialogue and applying positive problem-solving techniques to contemporary issues."
MAL is proving to be a highly popular and successful program: members of LAU's first annual MAL won Best Delegation Award and three Honorable Mention Awards at the 2011 Model Arab League conference in Paris.
"Students in the LAU MAL secretariat spend their time simulating the work of diplomats but they also serve as ambassadors of LAU," said Joseph Kanaan, OCE project management coordinator. "They embody LAU's mission to form well-rounded leaders in a diverse world and active citizens who can build a better future for the Arab region."
In 2011 LAU signed a Memorandum of Understanding with the National Council on U.S.-Arab Relations (NCUSAR) and now has the exclusive right to use the title of "Model Arab League" as the project to be implemented in Lebanon. LAU signed a three-year agreement with the Hariri Foundation for Sustainable Human Development in December 2011, enabling LAU to train students at over 100 middle and high schools in Lebanon in Arab League diplomacy. During the third year, training will be extended to schools in other Arab countries.
According to Farah Al Hassan, LAU MAL secretary-general, the success of the program lies in the fact that it builds skills that can be applied to personal and political life. "MAL made me realize that we have the power to induce change among Arab youth. You learn how to deal with other people, the importance of diversity, tolerance and teamwork, and you even develop your emotional intelligence."