Experiencing LAU
Iraqi professors discover LAU and forge firm future collaborations.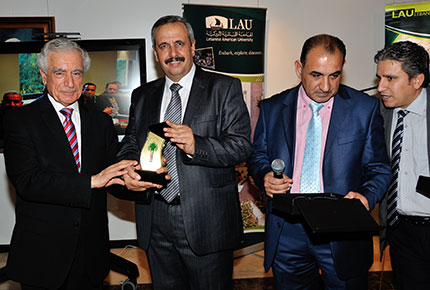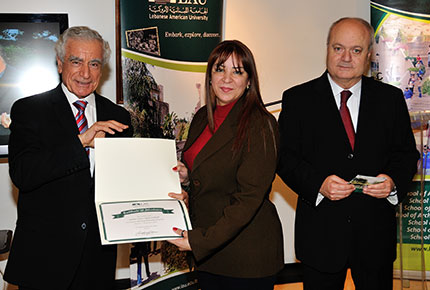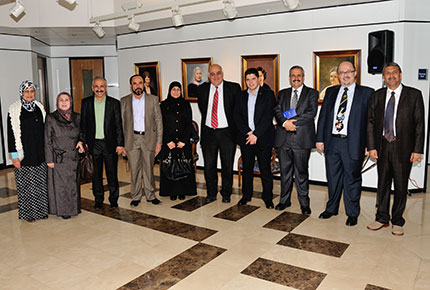 After one month spent discovering the mechanics of LAU's administration and academic practices, 19 Iraqi university professors gathered for a closing ceremony held in their honor on January 31 at the Beirut campus.
A sense of pride overwhelmed both parties as LAU's administrators bid farewell to those who, in the words of Dr. Walid Touma, director of the University Enterprise Office and host of the program, "from colleagues became friends".

Expressing genuine contentment with their experience, and in a move that wasn't expected, the Iraqi delegation presented their counterparts with shields of appreciation.
"This shows how rich and fruitful this exchange was. A success that couldn't be achieved without the collaboration and dedication of the LAU community as a whole," Touma declared.
During their time at LAU, the delegation discussed the mission, goals, history and structure of the university with administrators and staff of its key departments. They visited both campuses and the affiliated University Medical Center-Rizk Hospital. The delegates also held breakout sessions with faculty from their areas of expertise and attended their classes. In addition, they were introduced to the Senate and other academic committee representatives, as well as various entities such as the Alumni Office, the Outreach and Civic Engagement unit, the Continuing Education Program, and the Institute of Women's Studies in the Arab World, among others.
The month-long pilot project was initiated by the ministry of education and higher education in Iraq and facilitated by the Iraqi embassy, as the country is struggling to rebuild its education system shaken by years of instability.
"We were really eager to know how things are happening in Lebanon," said Dr. Inas Younes, a mathematics professor from Moussel University. "The ministry usually sends us to countries that we cannot really relate to. Here, we were introduced to the American education system in an Arabic environment and with people who speak the language. This is key to good communication and genuine interchange," she added.
Her colleague, a mathematics professor from Baghdad University, expressed his astonishment at the number and quality of extracurricular activities offered to the students and the emphasis put on civic engagement. "Such an approach was totally new to us; it was a real eye-opener," said Dr. Mejbel Hammad.
Dr. Lamia Yassin, a professor of psychology from Moustansiryah University, echoed Hammad's thoughts: "This experience has opened a new horizon for us. It has shown us just how much can be achieved if we work on this partnership." Indeed, be it at the level of the library or that of research studies, participants envision great opportunities of collaboration between both countries in the near future. In fact, at the ceremony, co-organized workshops and conferences, exchange of visiting professors and collaborative researches were already penned.
"This is only the beginning of a journey that we hope will last for many years to come," said LAU Provost Dr. George K. Najjar. "We are striving to build bridges between our institutions and the future collaborations I foresee are the indicators of this program's successes."
Collaborations and partnerships were also the motivation behind LAU President Dr. Joseph G. Jabbra's address: "We have a lot to give you but we also have a lot to learn from you. LAU is your home, so please, come back."