Experts talk fashion, culture and consumer at LAU
The Department of Design hosts two panel discussions within the framework of Beirut Design Week.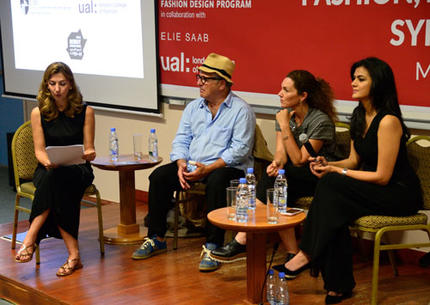 In collaboration with the London College of Fashion (LCF), LAU's Department of Design brought together six professionals with varied experience across the design industry as part of a two-panel symposium presented within the agenda of Beirut Design Week.
Designer and retailer Johnny Farah, handbag social enterprise owner Sarah Beydoun and fashion journalist Ritu Upadhyay took to the stage first, alongside panel moderator and Chair of the Department of Design Yasmine Taan, to discuss the cultural translation of fashion.
Questions posed by the moderator and an audience of local and international designers, buyers and design aficionados resulted in discussions about a number of interesting topics, including the relationship between a designer's home country, brand and market. "Economic sustainability means that designers have to look for commercial hubs," explained Upadhyay. "Lebanon has beautiful craftsmanship and is a great place for Elie Saab to base his workshop, but he still has to show in Paris, a natural hub," she added, referring to the internationally renowned designer and mentor of the LAU undergraduate fashion design program.
In fact, both Farah and Beydoun have set up their workshops in Lebanon for the same reason. "The proximity of artisans to each other is a great plus in Lebanon in terms of production," enthused Beydoun. "And until 2009 we had a strong market here, with Arabs coming over to buy, so we didn't have to export," she added, emphasizing the importance of starting locally before expanding regionally then globally.
Having lived and worked in various countries across the globe, Farah chose to call Lebanon home after 22 years in New York. "I'm attached to the artisan world," explained the designer who, in addition to producing his own brand collection here, has been importing foreign labels to his retail stores in Lebanon. "It's good for Lebanon to have nice designers, to keep the city interesting. Despite the financial hardship, we're doing fine. The Lebanese are good like that, never giving up."
Boutique owner Cynthia Chamat is an example of that Lebanese resilience. After leaving a career in law to run a business with her fashion retailer father, they faced a professional setback that threatened to derail Chamat's career in fashion before it had begun. "I decided to make clothes myself and focus on the customer experience by offering customization," she explained during the second panel discussion of the evening which addressed religious and regional taste cultures and was moderated by Reina Lewis, professor of cultural studies at LCF.
Fellow panelist Shelina Janmohamed offered an international view of customization with examples of big brands that are now producing garments and campaigns targeted directly at Muslim consumers, including H&M, Coca Cola, D&G and DKNY. "The Muslim consumer market is large, young and becoming affluent more quickly than other segments. They spend half a billion dollars on fashion annually and 90 percent of them say their faith plays some influence in their purchasing decisions," explained Janmohamed, vice president at Islamic branding consultancy Ogilvy Noor.
Understanding the audience―the consumer and the buyer―is one of the many periphery skills embedded in the LAU fashion program that prepares students for careers in fashion, of which design is but one. "It's very good that LAU teaches these skills, such as image and portfolio building," said British Council Fashion Programme Manager Kendall Robbins. "Morocco has one fashion school and is having difficulty creating a market and competing with fast fashion, but Lebanon is doing well in terms of education and retail."