Faculty gain an edge on grant proposal writing
A group of LAU faculty and staff participate in a proposal writing workshop led by an expert from the University of California, Davis.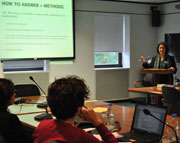 Dr. Suad Joseph explains the best steps to take when drafting a research proposal to LAU faculty and staff.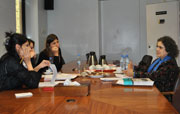 Joseph (right) meets with members of LAU's Institute for Women's Studies in the Arab World to discuss current and future funding proposals.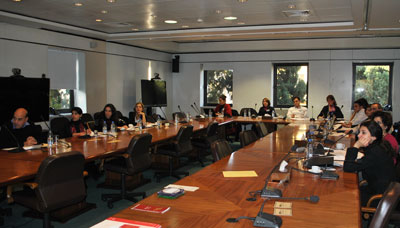 LAU faculty and staff meet in Irwin Hall's conference rooms for the workshop.
Click on any photo above to view all three images.
Over twenty LAU faculty and staff members from both campuses honed proposal writing skills and learned new ways to tackle research grants during a workshop held at LAU Beirut December 12-14.
"This event was supported by the university in line with our strategic plan, which has a pillar on faculty development," said Dr. Sami Baroudi, assistant provost for Faculty Affairs and a professor of political science.
Organized by the Provost's office, the three-day workshop was led by Dr. Suad Joseph, professor of anthropology and women and gender studies at the University of California, Davis.
"Proposal writing is not simply about winning money — it's about critical thinking," says Joseph, who has taught proposal writing for over 30 years. "The key tools of writing translate across disciplines and fields of activities, whether it's writing essays, books or journal articles."
Joseph adds that breaking down proposal writing helps demystify the process of doing research and the process of theory and knowledge building. "My commitment is to decrease our dependency on research, theory and knowledge building from the outside."
Paula Habre, an instructor in humanities at LAU Beirut, attended as part of a group working on a proposal for LAU's Writing Center.
"Dr. Joseph was very thorough, and gave examples from personal experiences to give us an idea of what to expect," says Habre.
"Sometimes there are things you don't consider to be part of your budget, for instance," she adds. "It is often difficult to say what you might need three years down the line, especially if you have more than one aim."
Around 80 percent of grant proposals are rejected these days, but Joseph encouraged participants to remain positive and proactive, according to Habre.
"We saw how we might think mistakenly about steps," says Habre. "She talked about rejection and how to move on, and to reapply for grants because the chances of getting accepted the second time are much higher."

Participants had been asked to prepare a one-page abstract of their project and email it to Baroudi ahead of time, in order for Joseph and the organizers to familiarize themselves with specific needs of different groups and individuals.
The workshop began with a lecture about funders, audiences and costs of research. Most of the first day was devoted to writing an effective research proposal, keeping goals, originality, feasibility, and costs in mind.
During the second and third days, faculty members seeking grants for institutional and individual research projects met one-on-one and in small groups with Joseph.
Graduate students from LAU, Lebanese University, and the American University of Beirut also had the opportunity to meet with Joseph during a workshop on December 15.
"Students learned about writing strong proposals to get funding for doctoral work, or funding for fieldwork for their master's dissertations," says Baroudi. "They were also able to meet with LAU faculty members in small groups to further clarify their proposals."