Faculty urged to apply for research grants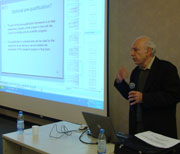 Dr. Hassan Charif, adviser with the Lebanese National Council for Scientific Research, encouraged LAU faculty to submit research proposals.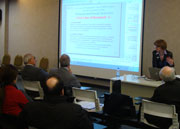 CNRS representative Dr. Amal Habib presented an overview of the council's goals and strategies.
January 29, 2010—
Representatives from the Lebanese National Council for Scientific Research, at the behest of the School of Arts and Sciences in Beirut, urged faculty members to apply for research grants during a presentation at LAU's Beirut campus on January 18.
The council, established in 1962, coordinates all national public research and cooperates with universities and businesses to financially and logistically support research. It calls for about 22 research projects across diverse fields each year.
"We look for creativity," said Dr. Hassan Charif, one of four CNRS advisers present during the lecture. "We want to have the culture of research grow in Lebanon as much as possible."
From 2003-2008, close to one-third of CNRS funds were used to support research in medical and biological sciences, another third went to engineering and information and communication sciences, and the last third was divided between environmental and natural sources, agricultural sciences, and human and social sciences.
The CNRS representatives explained the criteria and guidelines proposals must meet for consideration. Academics have until June to submit research proposals for 2010.
"The ultimate objective of the seminar was to encourage and support our faculty in preparing proposals to submit to CNRS for possible funding," said Dr. Nashat Mansour, assistant dean of LAU's School of Arts and Sciences in Beirut.
In a separate event organized by the school on December 16, Dr. Peter Hill, an academic developer at the University of South Australia, gave a lecture on "Innovations in Teaching and Learning."
Both lectures were given during a meeting for faculty members affiliated with the School of Arts and Sciences in Beirut as part of the school's ongoing effort to raise the bar in terms of research and teaching.
"The major things we do at this university are teach and research — the other things are just details," said Mansour, explaining how the two events complement the work being done at LAU.
In his lecture, Hill spoke of the need for educators to adapt as universities undergo rapid changes. For students to learn most effectively, Hill explained, teachers themselves must learn to become innovators in their disciplines.
He offered the faculty members several approaches to adopt toward achieving that goal and encouraged them to become familiar with LAU's priorities in teaching and learning, to look for departmental and disciplinary gaps and, above all, to "know their students, listen to them and keep their learning to the fore."
"Innovation requires that obstacles be overcome," said Hill. "And that means taking risks."
To apply for research grants or learn more about CNRS, visit its website.