Farewell to a colleague and friend: Miled Karkour 1971-2008
July 25, 2008—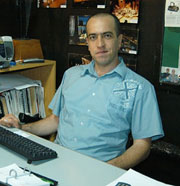 And there are those who give and know not pain in giving, nor do they seek joy, nor give with mindfulness of virtue;
They give as in yonder valley the myrtle breathes its fragrance into space.
Through the hands of such as these God speaks, and from behind their eyes He smiles upon the earth.
—Gibran Kahlil Gibran, The Prophet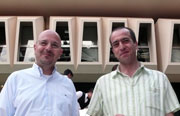 With Arts & Communication Chairman Raed Mohsen in early June.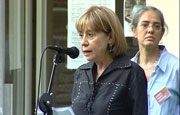 Beirut campus Dean of Arts & Sciences Samira Aghacy commemorates Miled at the opening of the International Theatre Festival.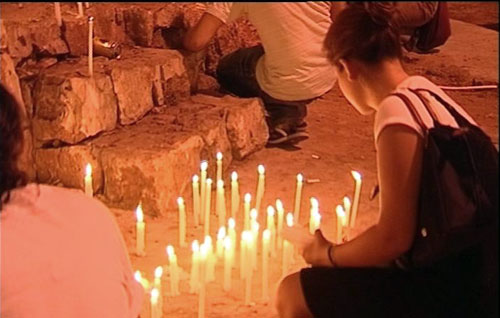 Festival attendees light candles outside the Fine Arts Building.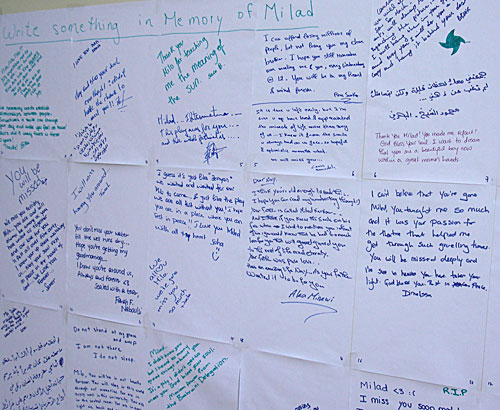 Visitors poured out their thoughts on a memorial panel placed next to the International Theatre Festival information booth.
Click any image to view all four pictures.
He lived not seeking happiness, but generating it. He gave infinitely and received very little in return. He was incapable of complaining. He found fulfillment in hard work; in doing a good job; in indiscriminate politeness and tireless service to others; in bringing a smile to strained souls; in helping without being asked; in reconciling differences and exposing the foolishness of fighting; in bringing people together.
Miled Karkour had a gift for conciliation, and wouldn't let a quarrel go by near him without intervening, always softly and successfully.
That is how he will be remembered by the students, faculty and staff members who knew him before a fatal domestic accident on July 21 robbed LAU forever of his quiet, affable presence.
Miled was a vital and inseparable part of LAU's vibrant theater life. Throughout 18 years of service to LAU, countless students were privileged to witness his humility, good nature and genuine friendliness.
An outpouring of sorrow and disbelief spread around campus and quickly reached those living in and outside Lebanon who knew him. People are still sharing their grief in person, by email, and on the Web.
"Miled was an outstanding individual," wrote Dr. Samira Aghacy, Dean of the School of Arts and Sciences, in an email message to the LAU community.
She added: "His devotion to LAU was exemplary. He was literally the first to arrive on campus and the last to leave. When we think of Miled, we think of the endless services he gave us which we did not and could not reciprocate. We took him too much for granted. Miled gave generously without expectation of reward. He was there not only for the Communication department, but for everybody. He was virtually overworked, but he never complained. He would interrupt any free weekends (which were very few) and drive all the way from his village (Ain Zebdeh in the Bekaa) to run a small errand at LAU."
At work, the one thing he enjoyed more than the theater was transmitting his comprehensive knowledge of it. He was "a responsible technician, a practical teacher and trainer" who taught the students "without any superiority," said Dr. Raed Mohsen, chairman of the Arts and Communication Department, in his eulogy.
Assistant Director of Alumni Relations Ghada Majed described how Miled always found time for everybody. The day he died, he had visited colleagues at their offices and treated them to "Nescafé," just to say hello and stay in touch. "He loved people," said Majed.
The tremendous amount of work he handled, always with grace and that perpetual smile, is appreciated more than ever as LAU carries on with its International Theatre Festival. The event, dedicated to his memory, opened on July 24. Students and faculty took the opportunity to speak in his honor, light candles and leave messages on a memorial poster.
"Miled was the go-to guy at the fine arts [building] in LAU and for the ones who met and worked with Miled, the theatre will not be the same," wrote Abdallah El Khodr '97.
Anas Ghaibeh '88 wrote, "Miled treated me like an older brother from the first moment I came to LAU even though he barely knew me back then. Always helpful, always smiling and with a sharp sense of humour, Miled made everyone that worked with him or around him feel at ease and able to give their best. Many times I witnessed Miled go out of his way and far beyond the call of his duties in the theatre in order to help or support people whether they were teachers, students or guests. I know that Miled will be remembered and loved by the thousands of people whose lives he touched and I will always treasure his friendship. Miled's characteristic smile and kind voice will forever be imprinted in my memory."
"I don't remember that I asked Miled to help me in anything; however, [he] always offered to help me without asking him," wrote Dr. Abbas Tarhini '94/MS '97.
Music instructor and choir director Leila Dabaghi wrote, "I, for one, could not have made it without him. He also provided help and encouragement to all past and present choir members who have come to consider him as a personal friend."
Malek Anouti '04 wrote: "I just can't imagine how I am going to pass through the corridor or look for him in both theaters shouting for his name so I could see his innocent smile … his picture in my mind, his innocent face smiling, has never left my mind. We will never forget how … he took us as brothers and sisters and treated us as such. He guided us, everyone on his own, [and even provided] guidance for our personal life… I promise I will try my best to make of his qualities a guide in my life. Until the time we meet again."
Hundreds of similar messages can be found in a special Facebook group created in his memory.
Miled was laid to rest in Ain Zebdeh, overlooking Lake Qaraoun and the Litani river, the village he used to exalt and invite everyone to visit.
He is survived by parents Youssef and Farida, wife Jocelyne and two-year-old daughter Nai.
Miled will be sorely missed, and his kindness will remain forever in the minds of those who were lucky to know him.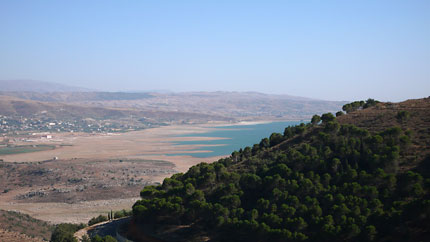 The view from Miled's final resting place (photo by Bassam Lahoud).