Farewell to former BCW president William H. Schechter
In memoriam: William H. Schechter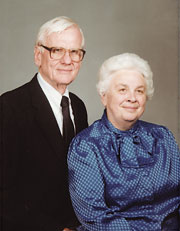 Dr. William Schechter and wife Zelma.

Former BCW President William H. Schechter passed away January 16, 2006 at the Colorado Springs, CO, nursing center where he had lived. A memorial service was held January 21, followed by a reception.
Dr. Schechter, who was 86, had laid the groundwork for the global market that the college's students were to face during his tenure from 1969 to 1973. He was an advocate of coeducational education and believed LAU (BCW's successor) was the right institution to provide leadership in economic development to the Middle East region.
"LAU needs to think bigger: it either has or can develop the necessary intellectual and organizational skills necessary to meet this goal," he said. He was keen on participatory management and was instrumental in creating the University Executive Council.
Dr. Shechter's wife Zelma passed away in April 2005. The family asked that contributions be made to Sterling College or to the "William and Zelma Schechter Scholarship Fund" established at LAU. Donations may be made to the Development Office in Beirut (tel. +961-1-786456) or to the New York Office (475 Riverside Drive, Suite 1846, New York, NY 10115-0065; tel. 212 870-2592).