Film festival aims to raise awareness on human rights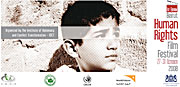 The poster of the Beirut Human Rights Film Festival 2008.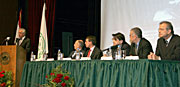 The main speakers at the launching ceremony on February 19th.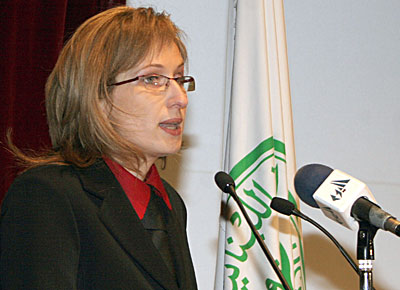 Dr. Iwona Safi, the Festival Co-Director in charge of human rights, was the MC together with Mr. Maurice Maalouf.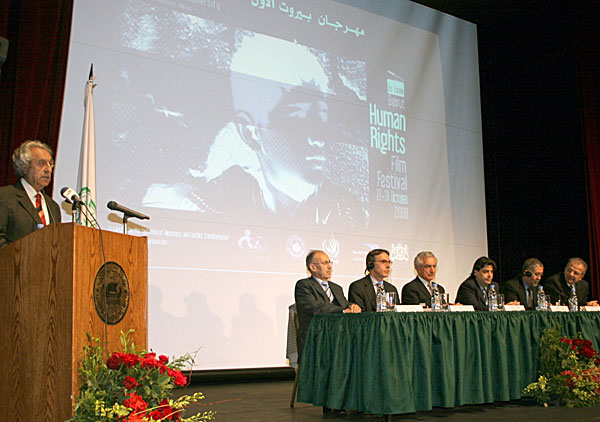 Mr. Maurice Maalouf, the Festival Co- Director responsible for film, at the launching ceremony on February 19, 2008.

Click on any photo above to view all four images
March 5, 2008—
LAU's Institute of Diplomacy and Conflict Transformation is using the power of film to advance human rights in the Middle East, as explained during a public ceremony last month marking the Beirut Human Rights Film Festival's inauguration.
"We thought of an innovative and pioneering way to pursue our goal by promoting human rights through … the art of filming," said IDCT Director Dr. Walid Moubarak. The institute and the School of Arts and Sciences in Byblos are organizing the event in partnership with the United Nations Office of High Commissioner for Human Rights (UNOHCHR), World Vision Lebanon, and the support of the Embassy of the Kingdom of the Netherlands.
The event gives university students from Lebanon majoring in film, audio visual and related majors the opportunity to participate in a contest by submitting their short films by June 17. Students can choose to shed light on human rights abuse as a cause of violent conflict, youth responding to human rights violations, children's rights, or gender and human rights. The prizes range from $3,000 for the first place to $1,000 for the third.
Selected films will be screened during a festival on October 27–31. An awareness campaign will follow with the distribution of these films, along with other educational resources, to schools, universities and other organizations.
Mr. Nabil Rawda, representing Mr. Fateh Azzam, the UNOHCHR representative, described the initiative as "yet another example of LAU's academic commitment to engage with the crucial issues of our present time, and to ensure that the future is built on a solid foundation of peace, human development, and progress."
For more information, visit the Beirut Human Rights Film Festival's site.