Finding the right path
A new service offered by LAU's Beirut Guidance Office helps students pick a major suited for them.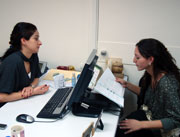 Aya Mir (left), career guidance officer in Beirut, sits down with students after they take the career assessment test to elaborate on the details and make recommendations.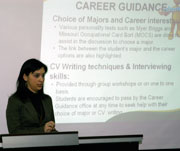 Rana Sakr, career guidance officer in Byblos, introduces new students to her office's services, during the orientation program on February 8.
A student's first few semesters in college are often shrouded in confusion and frustration when considering what major to choose. But luckily for them, LAU's Guidance Offices on both campuses offer services and tools to help students decide on a route that may be best suited for them, including a new career assessment test in Beirut.
The new test "is used to guide students' paths and identify their interests," says Aya Mir, career guidance officer in Beirut, who discovered the assessment tool and brought it to LAU this year.
The test is part of a package of tools called Strong Interest Inventory, which is developed by CPP, a firm in the United States that offers products and services related to business management and assessment.
According to CPP, 70 percent of U.S. colleges and universities use Strong Interest Inventory.
Students spend roughly 30-40 minutes completing the assessment by answering questions about their general interests and occupational preferences.
After the results are printed, Mir, who received CPP certification to manage the Strong Interest Inventory test last year, sits down with students to elaborate on the details and make recommendations.
Mir says the feedback of the students who have already taken the test — all in their first or second years at LAU — has been overwhelmingly positive.
"I've noticed that the assessment has switched on a light for them which wasn't there before," says Mir.
Dr. Tarek Na'was, Dean of Students in Beirut, explains that the assessment is needed to help a number of students get oriented toward choosing a future.
"As to our knowledge, LAU is the only university in Lebanon that provides such a service to its students," Na'was says. "But this would not be a first for us, as LAU, through its care and 'student centeredness,' has always strived to provide its students with all kinds of support to ensure their future success."
But the test may not be right for everyone, Mir cautions, explaining that students who are going through traumatic episodes or suffering from depression will receive skewed results.
However, Mir is convinced that the assessment remains a wise option for students who have already thought long and hard about their futures, but still find themselves lost.
"Ultimately we should help them find the right career paths," she says. "And it starts with picking a major."
A similar helpful service in Byblos
For the past five years, the Byblos Guidance Office has been offering a similar assessment tool, called Missouri Occupational Card Sort.
Like Strong Interest Inventory in Beirut, the Byblos service allows students to gauge what majors and careers may be best fit for them through the MOCS assessment test.
"We are trying to guide the students in choosing the right major so that they can enjoy the process and at a later stage excel in their future careers," says Rana Sakr, career guidance officer in Byblos.
Students who are interested in taking a career assessment test can contact Aya Mir in Beirut at: aya.mir@lau.edu.lb, or Rana Sakr in Byblos at: rana.sakr@lau.edu.lb.