Four LAU Model UN students win Fulbright scholarships
October 29, 2010—
Four LAU students will soon be heading off to the United States to pursue graduate degrees after having won the U.S. government's prestigious Fulbright scholarships.
The students come from a broad range of academic backgrounds but all share at least one key interest that made them attractive candidates for the scholarship program that will fully finance their studies: Active participation in LAU's Model United Nations Program.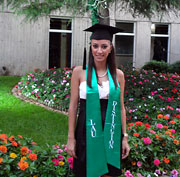 Taline Al Assad during her graduation ceremony in spring 2010.
"I think that being involved with MUN, and attending the World MUN conferences in both The Hague, in the Netherlands, and Taipei, in Taiwan, while at LAU, helped me gain substantive international experience that many U.S. universities are looking for in a graduate candidate," says Taline Al Assad, who graduated in spring with a B.A. in Political Science and International Affairs.
Like the other three students, Al Assad is still in the process of applying to universities. She plans to pursue an M.A. in International Development with the hope of one day working with an international agency in Lebanon such as the World Bank or UNDP.
While the four students have maintained impressive grades at LAU, academic performance is not the sole determinant when it comes to gaining acceptance to highly competitive programs such as Fulbright. Aside from MUN, the students were involved in a host of extracurricular activities outside campus.
"We are delighted that a growing number of our exceptional students are being recognized by the prestigious Fulbright award. These are students who are not only academically solid, but who have been empowered through MUN and other leadership training programs to take on the world," says Dr. Elise Salem, vice president for Student Development and Enrollment Management at LAU.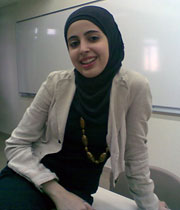 Angi Ghanem in class.
"The Fulbright committee is not only interested in [academic] records and grades," says Angi Ghanem, who will graduate this spring with a B.E. in Electrical Engineering. "It is very essential for a candidate to prove an ambitious character, willing to help the Lebanese society by initiating and developing projects that our country needs," adds Ghanem, who plans to earn an M.E. in Biomedical Engineering.
By the time Ghanem graduates from LAU, she will have served as an LAU MUN Secretariat member (project management and school relations coordinator) and an IEEE Club secretary at LAU, been an LAU merit scholar, volunteered with the Sanabel an-Nour charity, and been involved in the Francophone Games.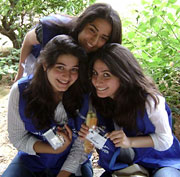 Leila Kabalan (1st from right) during parliamentary election monitoring with the Lebanese Association for Democratic Elections.
The students credit the rich and diverse programs at LAU as well as their supportive professors and mentors for providing them with the opportunity to pursue their studies while supporting their civic interests.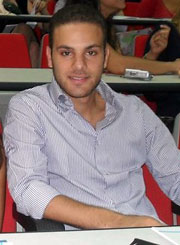 Tannous Kass Hanna, LAU MUN deputy secretary-general, will earn his B.S. in Economics at LAU in spring.
"LAU has played a major role in preparing me," says Leila Kabalan, an LAU MUN trainer who will graduate in spring with a B.A. in Political Science and International Affairs. "LAU has always made the effort to expose us to activities outside campus ranging from [parliamentary] election monitoring in 2009 to the World MUN conference in Taiwan. All those experiences have shaped my understanding of what it is like to be a 'world citizen' which is a trait much needed in today's world."
"LAU made it all possible for me," says Tannous Kass Hanna, LAU MUN deputy secretary-general, who will earn his B.S. in Economics in spring. "MUN played a crucial role in my overall academic and professional life. It influenced my choice of my field of study and substantially enriched my resume."
Both Kabalan and Kass Hanna say they plan to return to Lebanon after their graduate studies to contribute to the country's development.