From a clean slate to lavish visuals: Graphic design exhibits 2008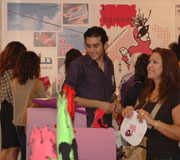 Visitors admire the Beirut students' works.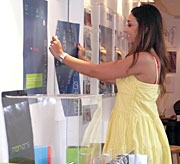 Getting ready for the Byblos exhibition.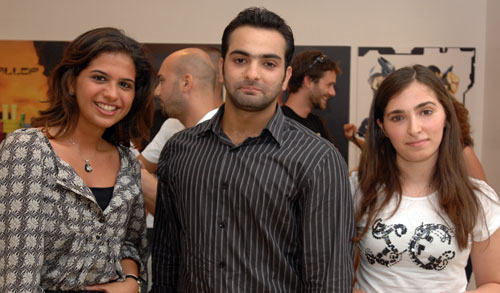 The award-winning students in Beirut. From left: Dana Abdul Ghani, Ahmad Shami and Hayat Sheikh.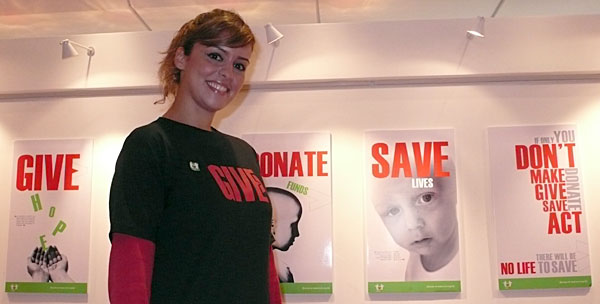 Neamat Tawil in front of her posters on children with cancer.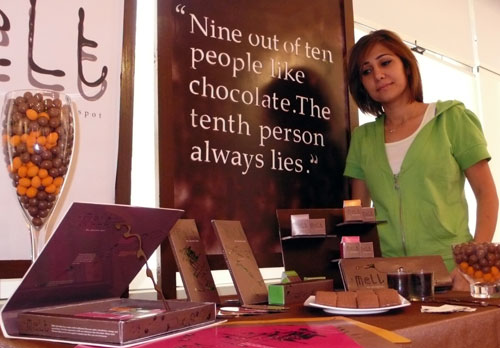 Chocolate molded into different shapes "sweetens" Nouf Chouman's exhibition stands in Byblos.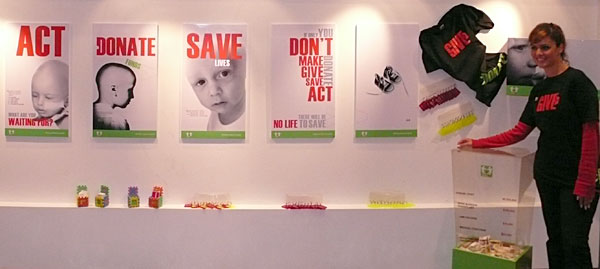 Neamat Tawil encourages visitors to donate money for children with cancer.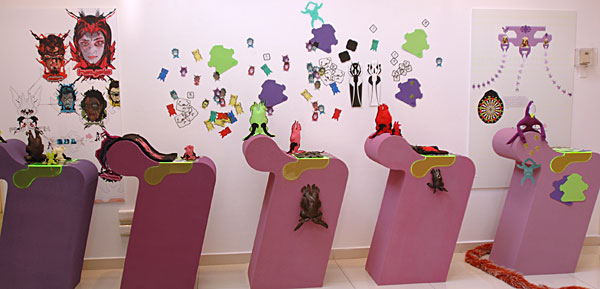 Colorful comic figures by Hayat Sheikh and Mohanad Zebib decorate the Sheikh Zayed Hall, Beirut.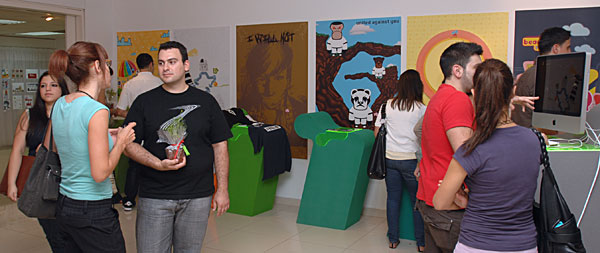 Animated figures, posters with interesting mixtures of text, graphics and colors convey messages to Beirut visitors.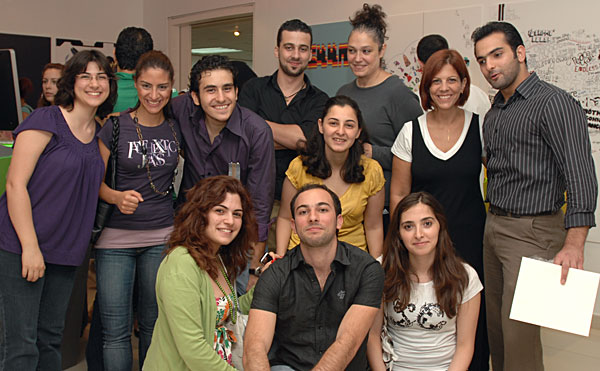 A group photo of students with Randa Abdel Baki (second from top right) and Silia Abou Arbid (third from top right) at the Beirut exhibit.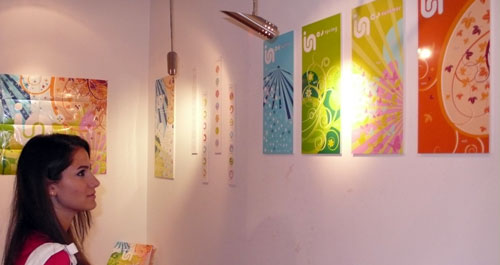 Posters representing the four seasons are displayed in the Rima Hourani Exhibition Room, Byblos.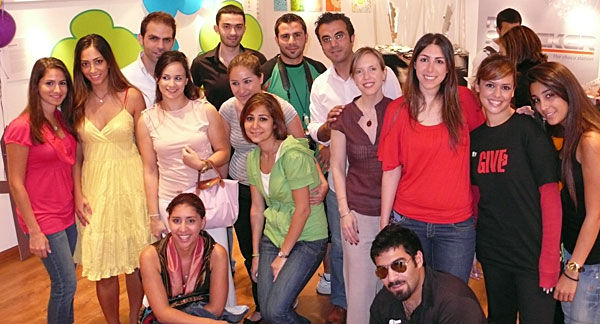 Byblos students surround Dr. Melissa Plourde (fourth from top right) and Dr. Tarek Khoury (fifth from top right).

Click any image to view all 11 pictures.
July 29, 2008—
As they develop their skills of arranging text and image in innovative and meaningful ways, LAU graphic design students are also given the opportunity to communicate their personal messages through the annual exhibitions on both campuses.
Last month, students displayed works ranging from posters, desk calendars, CD and book covers, advertising and packaging designs, corporate logos, a children's board game, silkscreen and caricatures to animation, websites and Arabic typography in motion.
The Beirut exhibition entitled "BrainstormInk" indicated students' freedom and endless experimentation as they conceived their concepts independently and with originality, according to Graphic Design Program Coordinator in Beirut Randa Abdel Baki.
Awards were presented to print media specialist Dana Abdul Ghani, and Hayat Sheikh and Ahmad Shami, specializing in digital media. Abdul Ghani produced a tourist guide-cum-diary of Gemmayze, a print production that she claims "transforms tourists into locals." Sheikh portrayed how online social networks mask our real identities, and how the "Internet is turning us into mutants." Shami explored the theme of violence in video games through his final project, a 3-D martial-arts movie.
The Byblos exhibit, entitled "Origin," embodied the theme of return to the essence of material. Every design starts on a blank paper and requires deep research and time to develop into a creative project, said Associate Professor Melissa Plourde, who participated in the organization of the Byblos exhibit with Graphic Design Program Coordinator Ruth Maalouf and Assistant Professor Tarek Khoury.
Some Byblos students explored notions such as the calendar and the seasons; the origin and evolution of chocolate; and the elements of life—earth, fire, water, air—adding the element of love. Others chose to portray humanitarian issues. Mira Abou Jawde focused on child soldiers, while Neamat Tawil prepared posters on children with cancer, and donated more than $1,000—raised during the exhibition—to The Children's Cancer Center of Lebanon.
This year's exhibitions saw an improvement in the quality and quantity of the attendees. Dr. Plourde said the Byblos event was well-attended by LAU students and teachers, but also recruiters, faculty from other universities and art lovers.
"LAU has provided a very good budget for the graphic design exhibits which helped raise them to a top-notch level… [This] created an eager interest in the program that made many graphic design students from other universities transfer to LAU," said Nathalie Fallaha, faculty member in the Graphic Design Department in Beirut.
A Daily Star article on the event noted that "more Arab students than ever before are choosing to study graphic design and the discipline is experiencing a boom," adding that Lebanon is at the forefront of the industry, with its graduates assuming dominant positions in graphic design studios throughout the region.