From Boston to Beirut: LAU design instructor brings international experience to her classroom.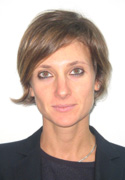 Khoury believes that design is a multidisciplinary field, encompassing industrial, architecture, interior and the urban scape.
Click to view larger version.
November 3, 2014—
"I heard that there is a momentum at LAU, so I wanted to see if I could be part of it," says Roula Khoury of her decision to join the university's School of Architecture and Design as an instructor of technical drawing and design. Khoury previously taught at AUB and Harvard, after having obtained her Master's degree in urban planning from the latter. "Architecture has the ground at its core, you can't dissociate architecture from its context," she says, explaining her choice of specialization.
The needs of her home country also played a role. "I minored in political science during my undergraduate studies and was motivated by Lebanon's clear need for urban planning, but unfortunately there is no room for such projects in Lebanon. There is no ministry, no committee; there is no space for urban planners to work with the government on this," says Khoury, clearly disappointed at Lebanon's lost potential. "Urban planning is a government tool, not a private sector matter," she explains. "But the problem is that the developers here are leading the planning and architecture of the city, and they are interested solely in profit-making."
Comparing Beirut's architecture to that of Boston — the city she lived in for two years while studying at Harvard — Khoury says the Lebanese capital is far more capitalist in its approach to formation and planning. "Beirut responds to the market, and that's all it does. This is the marketing strategy, the laissez faire. In Boston that is not the case at all. It adopts a very top-down approach with real strategic planning."
Asked what a strong strategic plan for Beirut would include, Khoury focuses on de-densification. "The city is too dense and the infrastructure can't cater for this density. The solution would be to de-densify and decentralize the economy, putting things outside of Beirut, so that people start developing an interest in living and working outside the capital."
That is not to say that she dislikes all the new buildings in the capital's center. "I like the Bank Audi headquarters in Downtown and the Hilton hotel," she admits. "They are new buildings that don't try to be copies of structures that stood there before or restored French mandate buildings."
Before joining LAU, Khoury worked with the city center's biggest developer, Solidere, for five years. "I worked on the development of large scale projects, but they were all fictive, proposals that didn't take off." One project however that existed outside of the sketches and analyses was Solidere's festive lighting, which saw Khoury work with European designers. "It highlighted how design is a multidisciplinary field, encompassing industrial, architecture, interior, urban scape… it was very interesting."
For the most part however Khoury wasn't fulfilled by her commercial work and was keen to go back to teaching, which she had first tried her hand at while in Boston as a postgraduate student. She has found teaching at LAU to be a very good and fulfilling experience. "The people I am working with are very nice and helpful. I can see several areas for development and I hope to become more involved in the program and find a family, a home, at LAU."