Future Prospects
The Minister of Industry Vrej Sabounjian talks to LAU students about local and global marketplace.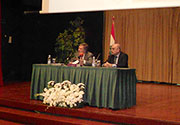 Sabounjian told the students they need to make use of their strengths in order to stand out.
Click on photo above for larger version.
More than 100 School of Engineering's students had the opportunity to meet last week with Lebanese Minister of Industry Vrej Sabounjian as he addressed their concerns about the local and global marketplace, giving them both cordial and vocational guidance.
The Q&A session was hosted by the Department of Industrial and Mechanical Engineering of the school on October 31 at LAU Byblos.
"The best advice I can give you is to capitalize on your academic knowledge and work experience," said Sabounjian, convivially addressing his eager audience. "Ask questions when questions need to be asked, never be stubborn, and don't be afraid to ask for help when you need it."
In 2009, unemployment rate in Lebanon reached a rather bold 10% — and the numbers may have speculatively increased since. While Lebanon is still ahead of various neighboring countries in that respect — Jordan's and Egypt's unemployment rates, for instance, presently stand at 11.9% and13.3% respectively — currently matriculated students are understandably anxious about finding a job upon graduating from university.
"Companies look for innovative ideas, and they want to hire those who can come up with these ideas," said Abounjian. "Working hard is a given, but you have to be able to make use of your strengths — whether it's your unique character, or your ardent motivation — in order to stand out."
However, students reminded the minister that the country's limited and saturated job market is prompting many fresh graduates to seek job opportunities studies abroad.
"Bearing in mind that Lebanon is a rather small country, and taking into account the size and needs of its market, I encourage those who are keen on starting their own businesses to think big," he replied. "If you want to start even the smallest of industries, you have to take baby steps. You have to learn how to walk before you can run," wisely noted Sabounjian reminding that many steps have been taken at the state level in collaboration with the private sector to boost youth employment.
Indeed, since the Ministry of Industry launched the Lebanese Industrial Research Achievements (LIRA) program, university students in Lebanon can take those baby steps more confidently. The LIRA program aims to bridge the gap between the industrial sector and academia by addressing the research and development needs of the Lebanese industry.
Through LIRA, a program LAU is part of, university students can seek industrial sponsorship for their research proposals, helping them to develop their projects into prototypes at minimal cost. According to Sabounjian, selected proposals are partially funded by the Lebanese government, covering up to 50% of the models' production costs. Should the projects come to fruition and require further development, the Ministry of Industry helps the students find auxiliary sponsors.
"We want our students to know what to expect after they graduate, to know what joining the workforce is like," said Dr. George E. Nasr, dean of the School of Engineering. "What they learn here is very important, but it's even more crucial for them to know how to use it to contribute to the country's development."
Eddy Azar, a fourth year industrial engineering student, agrees. "What lies ahead is not easy; we all know how difficult it is to find a job," said Azar. "But the Minister was candid and reassuring in many ways. It's important for us get a glimpse of what the marketplace is like."