"Gender justice needs to be a national project"
LAU hosts launch of groundbreaking study on access to justice for women and girls in the Arab region.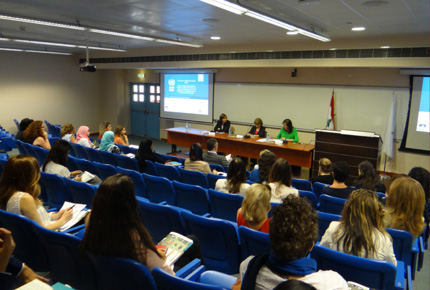 "This study is at the heart of what we do," said Samira Atallah, director of the ESCWA Centre for Women, at the launch of a flagship project titled "Access to Justice for Women and Girls in the Arab Region: From Ratification to Implementation of International Instruments."
Held in partnership with LAU's Institute for Women's Studies in the Arab World (IWSAW), the project's launch attracted the attendance of representatives of governmental institutions, development practitioners, gender experts and researchers, students and the media. The participants posed challenging questions to Lana Baydas, the study's principal author, after she presented its main findings and recommendations.
"We drew on background papers prepared by experts and looked at various strands of the law, considered times of both war and peace, and analyzed levels of actual implementation as opposed to simply considering laws and statutes," said Baydas by way of introduction to the 60-page report.
The study incorporates all 17 ESCWA member states and reviews the ratification of various international conventions as well as the ease of access of women to each step of the justice chain, from the ability to report crimes to the police to enforcement of penalties. Baydas also considered constitutions and national legislations, reviewing discriminatory laws, criminalization, the availability of remedies and the protection of non-citizens.
"Personal status laws are all discriminatory, often making it near impossible for women to seek justice when men assume legal guardianship over them and their children," she explained. "Many parts of the criminal and labor codes across the region also discriminate against women," she added, citing leniency for rapists and a lack of sufficient maternity leave as examples.
All those in attendance shared one long-term goal: the eradication of gender discrimination in both the written laws of the Arab world and in practice. While underrepresentation of women in government, the judiciary and other positions of influence was cited as one barrier on the road toward gender justice, Baydas pinpointed the social barrier as the main hurdle: "Even where laws exist to protect women and ensure them access to justice, police officers have oftentimes dissuaded them from filing complaints."
The role of media, awareness, education, religion and economic empowerment were among the many topics addressed by the audience in their interjections and questions. While the study touched upon many of these diverse aspects of gender injustice in the region, the recommendations presented focused predominantly on reforms at the legislative and institutional level.
Acknowledging recent gains spearheaded by women's rights NGO Kafa in Lebanon, Atallah stressed the importance of cooperation. "No one entity can break all the barriers alone. We need to go beyond one successful case. Gender justice needs to be a national project with responsibilities across the board."