Graphic design students showcase digital and print media works
Senior graphic design students on both campuses displayed their final projects at exhibitions entitled "If" and "Loop."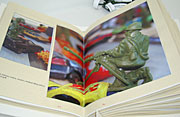 In a book, George Tarabey, a graphic design student in Beirut, illustrated the Lebanese Civil War with toy soldiers to symbolize how leaders "played" with people's lives.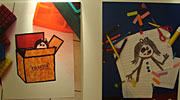 Posters by Byblos graphic design student Celine Dabbous focused on what she described as "child abuse seen from the eyes of kids."

More pictures of graphic design projects by Beirut and Byblos students.
Toy soldiers were scattered on the floor of the Rima Hourani Exhibition Hall in Byblos and childlike drawings symbolizing child abuse adorned the walls of the Sheikh Zayed Hall in Beirut in June.

These were features of only two projects by senior graphic design students showcased at the Beirut and Byblos exhibitions held June 19–25 and June 9–12 respectively. Other projects ranged from books, posters, signs, booklets and playing cards to board games, animated films, computer games and materials for awareness campaigns.

Students exhibited projects they completed for courses they took in spring semester, and were based on research they had started in prerequisite courses last summer.

"There is a very big maturing part throughout for them," says Nathalie Fallaha, an instructor in LAU's Arts and Communication Department in Beirut. "They learn a lot on the way, and the end results are [exhibited] just because time is over for these specific projects in the school but it doesn't mean they won't continue in these particular paths."

The title of the exhibition in Byblos, "If," symbolized the many possibilities in graphic design. "All of us as designers, when we begin a creative endeavor, ask ourselves: What is our potential? What could we do? How can we make a difference?" says Melissa Plourde, assistant professor of graphic design on the Byblos campus.

Tarek Khoury, also an assistant professor of graphic design in Byblos, says having a theme is not only important to create connectivity between the projects, but so the students can inspire each other. "They can feed each other because they are all working on the same basic ideas."

Beirut's exhibit, called "Loop," represented this exact thought. It is "the idea of passing the energy from one student to the other so there's a kind of synergy between them," explains Fallaha.

The name was also reflected in the setup of the exhibition that was created by Selia Abou Arbid, a Beirut-based instructor at the Architecture and Design Department. Special lighting illuminated each stand on which a project was placed in a circular sequence around the room.