Healthcare professionals mark International Nurses' Day at LAU Byblos
ARCSON celebrates the occasion by hosting a panel discussion on the status and perspectives of the profession in Lebanon.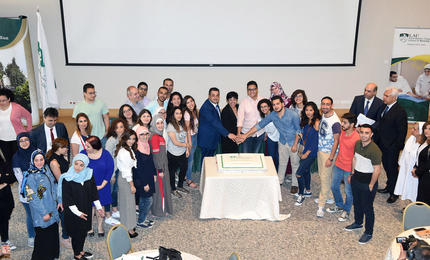 "This is a day for nurses, who care, are compassionate, and are professionals. They serve the most vulnerable people in our society." So said Dean of Alice Ramez Chagoury School of Nursing Anahid Kulwicki to a room full of healthcare professionals gathered at LAU Byblos on May 10 to celebrate International Nurses' Day, which falls on May 12. "This is to thank you for the smiles you put on your faces despite the stresses you go through."
With these words of commendation, Kulwicki kicked off a panel discussion on the current status and future directions of the nursing profession in Lebanon, organized to mark the international observance day.
An accomplished nurse herself, Kulwicki pursued her M.S.N. in Nursing Care for Children and later her Ph.D. in Nursing Synthesis at Indiana University with a research focus on the health of immigrant, refugee and minority populations. Strongly committed to nursing education, she started her full-time academic career in 1987, becoming dean of the College of Nursing and Health Sciences at the University of Massachusetts, Boston, in 2012 before joining LAU in September 2016. Years of experience and a comprehensive expertise allowed her to present a realistic comparison of the state of nursing in Lebanon, her home country, and the U.S.
"For the past 15 years, nurses have been the most trusted professionals in the U.S. That is what we want for Lebanon," said Kulwicki, before stressing the startling need for nurses in the country, particularly those of a high caliber who have completed LAU's undergraduate nursing program. "I applaud you nurses for taking this tough job, but your future is very bright."
Kulwicki, who moderated the event, invited the four panelists to share their thoughts and experiences with the many students, graduates, and clinicians in attendance.
"Nurses make the difference between life and death, comfort and pain, sickness and health. It's clear that the future of healthcare lies in their hands," said CEO of the LAU Medical Center-Rizk Hospital Sami Rizk. He noted the lack of respect for the profession, the lack of appreciation on the part of patients and their families, shift differentials and the overall stress the job entails as reasons behind the shortage of nurses in Lebanon.
"We must manage these issues at a national level, engaging the orders of nurses and of physicians, the Ministry of Health and all others involved in patient care and management," he advised.
Nursing Director of Mount Lebanon Hospital Lina Aoun Choueiry echoed the sentiment. "We need a national plan for nursing directors, as they are the leaders. We need to empower them and enhance their capacity by increasing their negotiating power," said the founding member of the Lebanese Order of Nurses. "We must build a national strategic plan for recruitment and retention. It is not only private hospitals that should have such plans."
LAU alumna Yvonne Jleilati, a registered nursed joined LAU Medical Center–Rizk Hospital's critical care and oncology units in 2013 before becoming a patient care facilitator at AUBMC. Her four years of practice have allowed her to see the impact that negative stereotypes have on the recruitment and retention of nurses.
According to Jleilaty, nurses are not allowed to perform to the fullest extent of their education and training, a matter also denounced by the General Manager of the Makhzoumi Foundation Samer El Safah. "Nursing is seen as a helping hand within the healthcare system instead of a profession on its own," he said. "We need to raise awareness."
Participants were all conscious of the need to work proactively to improve the status of nurses in Lebanon and were eager to collaborate.
Such positive messages resonated with the budding professionals. "Today was a wonderful opportunity to get feedback and network with others in healthcare," said graduating student Nour Bazzi, who proposed the event format to Dean Kulwicki.
ARCSON's first class graduated in 2013. Since its founding, it has strived not only to provide its students with academic excellence in nursing but also with the interprofessional education, essential to becoming ethical clinicians and leaders in healthcare.
"It is our moral and social responsibility to provide the best care to our Lebanese population. We owe it to them," Kulwicki concluded.