Honoring LAU's best and brightest
LAU's Student Honor Society celebrates exceptional students in Beirut and Byblos.
 The scholastic achievements of exceptional LAU students were celebrated in May at two Student Honor Society ceremonies in Beirut and Byblos.
Organized by the dean of students office on both campuses, the ceremonies recognized the achievements of over 300 students and distributed awards to those who successfully maintained a 3.5 GPA after the completion of 60 or more credit hours.
Addressing the crowd, LAU President Dr. Joseph G. Jabbra, praised the accomplished students and encouraged them to continue pursuing excellence as they embark on a new chapter. He added that the skills and confidence gained at LAU will serve as a source of inspiration as students go on to become active members of society working to bring about social change.
"By honoring hardworking students, the ceremony encourages other students to aspire to academic excellence," said LAU Byblos student Elie Charbel Saliba, award recipient for the highest GPA in the School of Arts and Sciences.
Nadeen Samir Safa was recognized for obtaining the highest GPA in the School of Architecture and Design at Beirut campus. Safa, humbled and surprised by the recognition, advised her fellow students to "learn for the sake of learning" and to have tenacity in the face of difficulty.
At both ceremonies, active engagement in student life was also celebrated through the distribution of the Rhoda Orme award.
The award is built on the legacy of Rhoda Orme, former president of LAU (then Beirut College for Women) and is traditionally awarded to two female students in recognition for their exceptional school spirit, dedication and services at LAU.
This year, accolades were given to pharmacy and nutrition student Natalie Tamer, in Byblos, and Sahar Hassan Moukaddem, a communication arts student in Beirut.
Furthermore, awards were distributed to students who exhibited outstanding leadership skills at LAU and in the community.
The Riyad Nassar Leadership Award went to business student Khaled Ziad Hamade in LAU Beirut and to Oriane Chamoun, industrial engineering student in Byblos.
"I am grateful to LAU for giving me all the opportunities to develop my leadership skills" says Chamoun. She adds, "It feels great to have all the hard work recognized."

A monetary gift of $1000 was presented to the students who attained the highest GPA in their respective schools.
The Student Honor Society is exclusive to students who have a GPA above 3.5 and have completed more than 24 credit hours.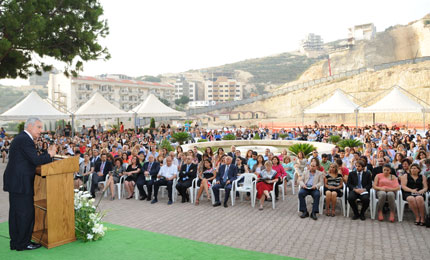 In his Byblos address, LAU President Dr. Joseph G. Jabbra underscored the importance of encouraging academic achievement.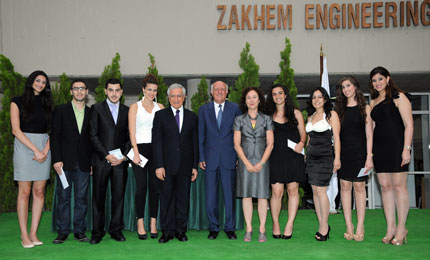 President Jabbra, Dr. Elise Salem, vice president for student development and enrollment management, accompanied by former LAU president Dr. Riyad Nassar, recognize exceptional students in Byblos.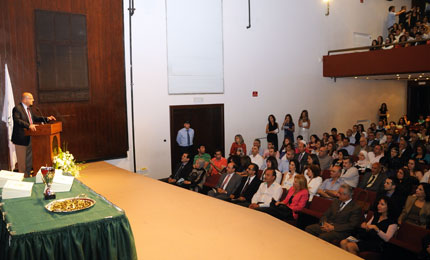 Dr. Raed Mohsen, dean of students at LAU Beirut, addresses a crowd of parents, university administrators and students.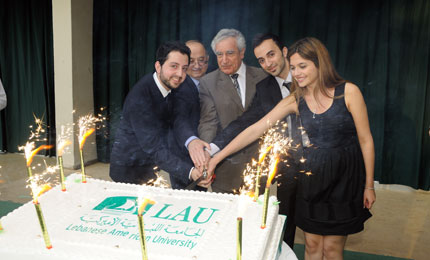 Student Honor Society award winners in Beirut participate in cutting of the cake with President Jabbra and Dr. Said Elfakhani, dean of the School of Business.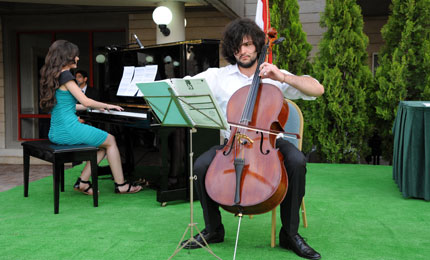 Students Nadi Khairallah, playing the cello, and Lea Wadih on the piano put on a crowd-pleasing performance in Byblos.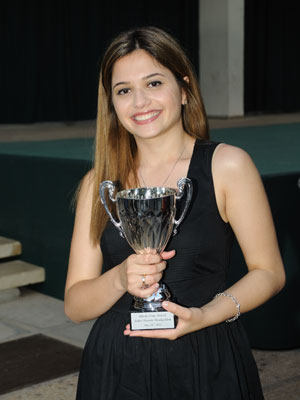 Sahar Hassan Moukaddem with her Rhoda Orme Award.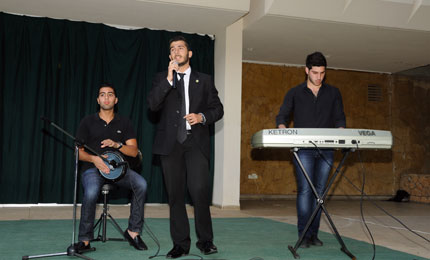 Musicians perform to a crowd of beaming students and proud parents during the ceremony in Beirut.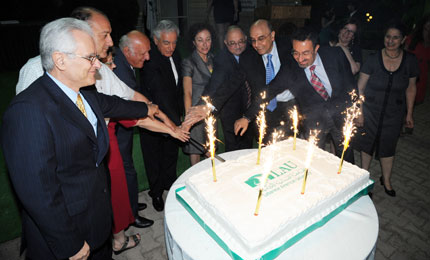 LAU officials cutting the celebratory cake in Byblos.