Horsh Beirut: Where people from different backgrounds can come together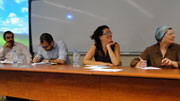 A four-person panel discusses the history, significance and challenges surrounding Horsh Beirut, the city's largest and one of the few remaining green public spaces. From left: Mohammad Ayoub, Fadi Shayya, Zahra Wahid, and Francoise Lenoble.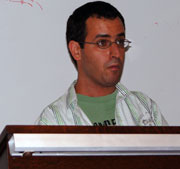 The event was held as part of an environmental science course taught by Mohammad S. Al-Zein, a part-time faculty member at LAU's Natural Sciences Department.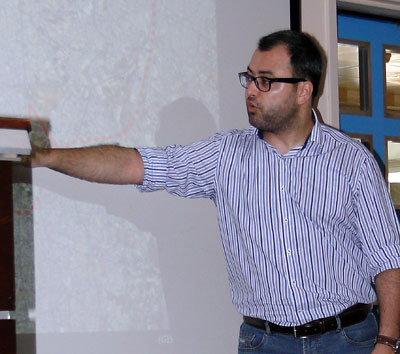 Fadi Shayya, an urban planner and editor of a book about Horsh Beirut, says good governance is the key to opening up the space to the public.
Click on any photo above to view all three images.
August 30, 2010—
A green speckle of oasis in an urban jungle, Horsh Al-Sanawbar, with its towering pine trees and animal habitat, is the largest and one of the few remaining green public spaces in Beirut.
Largely forgotten, ignored or simply unknown to many people living in the country, Horsh Beirut, as it is commonly referred to, was the topic of a four-person panel discussion at LAU Beirut on August 20.
Held as part of an environmental science course taught by Mohammad S. Al-Zein, a part-time faculty member at LAU's Natural Sciences Department, the event revealed Horsh Beirut's history, social significance, and symbolic nature.
"Nature exists as a memory, a collective metaphor. Horsh Beirut is no exception for many Lebanese," Al-Zein said during his introduction, recalling how he used to play there as a child during the war.
Located on the edge of the Municipal Beirut limits just north of the southern suburbs, the park is home to about 70 types of birds in addition to other wildlife, and is closed off to the public aside from a small graveled area.
This restriction — one of the main focus points of the discussion — is thought to be an unfortunate reality for many Beirut residents.
Fadi Shayya, an urban planner and editor of the book At the Edge of the City: Reinhabiting Public Space Toward the Recovery of Beirut's Horsh Al-Sanawbar, described this limitation as a failure of governance. During his presentation, he showed photos he took of Horsh Beirut with trash scattered across the land, and a fence with added spikes and barbed wire to prevent individuals from sneaking in.
According to Shayya, about 66 percent of the park is closed off to the public. Only 17 percent is open, with the rest accounting for the parking lot, sidewalk and empty space.
"Beirut is a dense city. And it is dense not only because it has many people, but because it is an unplanned city," Shayya said, as he explained how it was not until the French mandate that Beirut's development began to take shape within a structured plan.
According to him, only 2.6 percent of Municipal Beirut is designated as public green space — about 458,000 square meters of the city's 17,542,000 square-meter total area. Horsh Beirut makes up about 330,000 square meters or 72 percent of Beirut's public green space.
Shayya showed a slide demonstrating the gradual decay of Horsh Beirut since 1696, when it was estimated that the space covered an area of 1,250,000 square meters, almost four times its current size.
"Beirut is indeed a forest of concrete," though that was not always the case, Shayya added.
Another panelist, Zahra Wahid, who is in charge of a day school inside Horsh Beirut, focused on Beirut's green history. She presented slides of a city once covered with trees during Ottoman rule, when strict laws prohibited their uprooting, according to her.
The greenery slowly vanished as the city's population grew, destroying a habitat for many animals that were forced to migrate north. The war also contributed to the environmental destruction of Beirut.
"In 1982, the Israelis burned all our trees from Naqoura to Beirut. In Horsh Beirut, there were just 320 trees left after the invasion," Wahid said, adding that many of those trees were later destroyed to make passages for vehicles during the war.
Panelist Francoise Lenoble, who today works in the Municipality of the Ile de France region in France, was an activist and member of a team that came to Lebanon following the war to assist with reconstruction and the restoration of Horsh Beirut.
She recalled working with young Lebanese architects at the time, who took her by the hand and let her smell the scent of jasmine in the earth. The gesture apparently touched Lenoble who realized how some Lebanese were concerned that reconstruction and plans to build a "modern" city might destroy the city's culture, history and green space.
"I was dedicated to keeping Beirut, Beirut — preserving the city's identity to something that reflected the Lebanese diversity," Lenoble said. "We thought that Horsh Beirut should be a place where children from all communities and backgrounds could come together," she added.
Mohammad Ayoub, the general manager of Nahnoo, a youth-oriented NGO that is working on a campaign to open up Horsh Beirut, described some of the general fears associated with the public space.
Because of its location in Beirut's often stigmatized south, Ayoub said some people from other areas hesitate to visit that neck of the woods.
"There is a fear that if people from different backgrounds and sects meet, there will be violence," Ayoub said. Horsh Beirut can in fact help avoid that violence by allowing "people from different regions and backgrounds gather and mingle together without this fear of 'the other,'" Ayoub added.