Human rights expert says supporting prostitution is violence against women
Gunilla S. Ekberg gave a lecture on "International Situation on Prostitution and Trafficking in Human Beings: A Feminist Analysis" at LAU.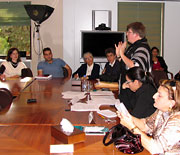 A Swedish-Canadian lawyer, feminist and human rights expert, Gunilla S. Ekberg, lectures about the "International Situation on Prostitution and Trafficking in Human Beings: A Feminist Analysis" at LAU.
A Swedish-Canadian lawyer, feminist and human rights expert, Gunilla S. Ekberg, spoke about the relationship between prostitution and violence against women in a lecture entitled "International Situation on Prostitution and Trafficking in Human Beings: A Feminist Analysis" at LAU on April 8.
"Prostitution is the keystone in holding up a patriarchal society," said Ekberg in the opening remarks of her lecture, held in the Irwin Hall – Conference Room, at the Beirut campus.
The lecture was organized by LAU's Institute for Women's Studies in the Arab World in cooperation with the NGO KAFA (enough) Violence and Exploitation, and incidentally came just one day after Lebanon passed a law protecting women against domestic violence.
Attended by women's studies students and academics, the Sweden-based lawyer discussed how prostitution should be regarded as being equivalent to violence against women and that condoning the practice is a mistake.
"It's a gender-specific crime, where the buyer is almost a hundred percent male," Ekberg said. She added that it is "the factor" that "men use to control women and the main barrier for women to have equal citizenship and full rights."
She recalled that 30 years ago it was difficult for women who were raped to get their rights in court. Today, activists are fighting for the prosecution of male clients and for the women prostitutes themselves to be seen as victims.
"These women are no different from us," she emphasized. "If we understand feminism in that way, then we have the responsibility to find out about women in different situations than ourselves."
Ekberg, who grew up in a rural area of southern Sweden, then shared a story of her childhood: When she was in high school, two teenage sisters from her village disappeared. Months later, they resurfaced in the Danish capital of Copenhagen, where it was discovered they had turned to prostitution after having endured years of sexual abuse by their father.
Women who turn to prostitution should not be judged as the vast majority of them were abused as children, said Ekberg, adding their situation should not be seen as a choice.
Because of the dire circumstances that lead women down this path as well as the inhumane conditions they endure when working, Ekberg believes prostitution should never be legalized, including in Lebanon, where it is implicitly permitted — but is not officially legal — within the system of "super nightclubs."
She took the examples of the Netherlands, Germany and Australia, all of which allow prostitution and have thriving sex industries. Interestingly, most of the men who travel for sex tourism come from these very same countries, a sign Ekberg said legalized prostitution only promotes the industry, rather than simply regulating what already exists.
Because of a strong education campaign, today "Sweden is no longer a good market" for prostitution, said Ekberg.
She concluded, "Without a market, there's no demand, and without demand, business will go away."
Following the lecture, Ghada Jabbour, co-founder of KAFA and head of the unit on exploitation and trafficking in women, said, "It's very important for people to start listening and debating."
According to Jabbour, whose group is currently compiling data about human trafficking and prostitution in Lebanon, "what's clear is that the artist visa is a facilitation of prostitution." She added, "Prostitution is happening here, and everyone knows it, but they turn a blind eye."
She said, "It's good to hear about the Swedish experience, and see how they've dealt with the problem. They're a role model for other countries and feminists."
Ekberg was appointed co-executive director of the Coalition Against Trafficking in Women International in 2007, an international non-governmental organization established in 1988 that promotes women's human rights by working internationally to combat sexual exploitation in all its forms.
Prior to this appointment, Ekberg held the position of special adviser to the Swedish government on trafficking in human beings for five and a half years, responsible for developing public and legislative policy. She regularly acts as an expert on trafficking in human beings to international bodies and to national parliamentary commissions developing measures on trafficking in human beings.