Illustrating their way to the top
Two members of the LAU community win major prizes in the Mahmoud Kahil Award comic arts competition.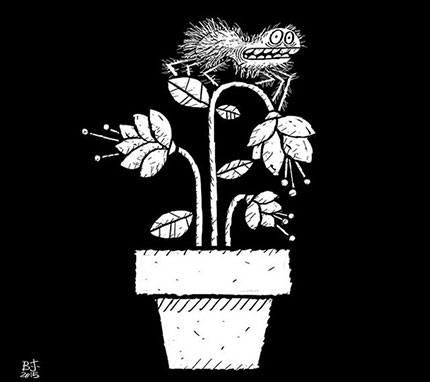 Two members of the LAU community walked away with two of the top prizes of this year's Mahmoud Kahil Award competition. "This is very good for Lebanon, because it means people are putting money into this field and supporting artists," said Yasmine Taan, LAU associate professor of graphic design, of the awards handed out at the recent gala dinner.
Azza Hussein, an instructor in digital media, drawing and sketching at the university's School of Architecture & Design, won first prize in the "Children's Book Illustration" category. "I feel honored, happy and grateful for this recognition of the work I have done since I started illustrating children's books," said Hussein. "This award inspires me to continue doing what I'm doing."
LAU alumnus Bahij Jaroudi, who holds a degree in graphic design (B.A., '03), received the top accolade in the category of "Graphic Illustration." After graduating from LAU, Jaroudi found himself "attracted to drawing" and went on to work as an animator for Future TV while developing a substantial body of illustrative work, some of which can be found on his blog.
The competition was held as part of the Mu'taz and Rada Sawwaf Arabic Comics Initiative at the American University of Beirut (AUB), in honor of Mahmoud Kahil, a leading cartoonist and caricaturist of the Arab World. The allocation of both prizes, which included monetary awards of $10,000, was subject to a rigorous selection process.
The director of the initiative, Associate Professor of Graphic Design at AUB Lina Ghaibeh, is herself an LAU alumna, who published her first comics work while a student at LAU. "I am proud to be an alumna," she enthused, going on to describe the intense competition for this year's Mahmoud Kahil awards. "Almost 300 professional comics and illustration artists and cartoonists participated," Ghaibeh said, "and over 900 art works were submitted" for consideration from 11 Arab countries.
Jury member George Khoury, who teaches courses in graphic design at LAU, was impressed by the fact that two of the five prizes went to entrants from the university community. Commending "the open environment and the seriousness of the program," he noted that these were graduate students "who [were] successful in professional life."
According to Taan, the success of Hussein and Jaroudi puts the Department of Design in a strong position as the university prepares to launch a master's in visual narrative. Their achievements "underline the demand for such a program," which is currently in the planning stages and expected to be launched in the fall of 2016.
As part of the continuing exploration of comic arts at LAU and the build-up toward the launching of the M.A. in visual narrative, the Department of Design is organizing a panel on April 7 on censorship in comics, focusing on how comic artists approach taboo issues.